Conor McGregor Knocks out Eddie Alvarez to Win UFC Lightweight Title
First to hold two belts simultaneously. Making history.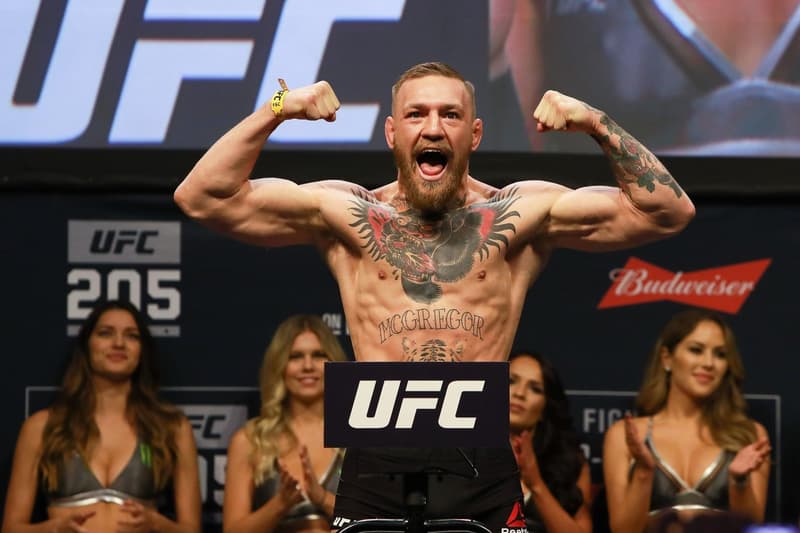 Irish champion Conor McGregor has added the lightweight title to the featherweight championship he already holds, knocking out Eddie Alvarez in round two of their UFC 205 main event. Taking place at Madison Square Garden, the challenger, McGregor took two belts home tonight, making history. Eddie Alvarez, on the other hand was making his first title defence following a win against Rafael dos Anjos inside one round earlier this year. In round one, Alvarez lashed out with an inside leg kick. McGregor responded by diving in and missing. McGregor then floors Alvarez from his left hand, twice. Alvarez gets back up but is shortly put down again after McGregor lands a glancing left, applying some ground to the pound. In the second round, the 28-year-old challenger's showboating was followed up by three consecutive punches which floored Alvarez. With McGregor ready to pounce, John McCarthy stopped the bout with just under two minutes of the second round remaining.
McGregor wasn't surprised by his victory when asked if this was unexpected. "Not one bit," he said. "They're not on my level. You've got to have size, length. Eddie's a solid competitor. He's a warrior. But he shouldn't have been in here with me."
Check out a quick recap of the knock out below.
MCGREGOR MAKES HISTORY! #UFC205 #UFCNYC https://t.co/OfAxqzHKie

— #UFC205 (@btsportufc) November 13, 2016