Vetements' Demna Gvasalia Talks Balenciaga, Growing up in Georgia & More
Fashion's man of the moment sits down with SSENSE.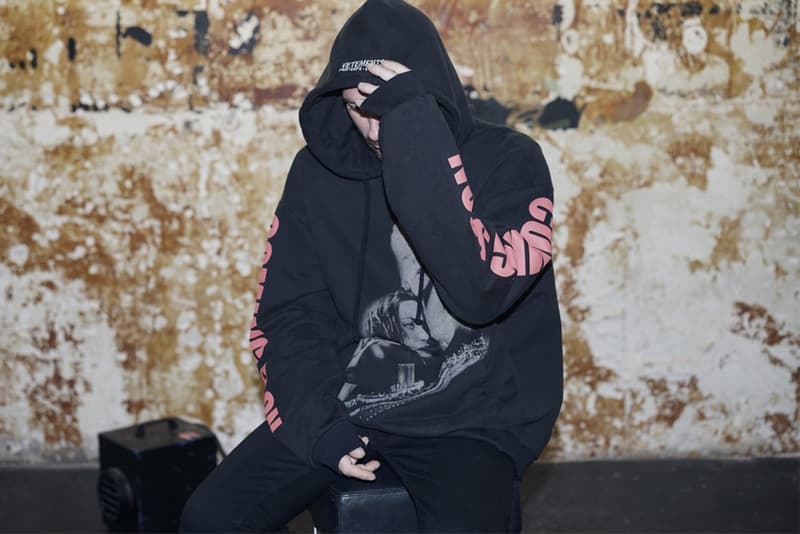 Vetements' Spring/Summer 2016 show at a Chinese restaurant last fall pretty much stole the headlines at Paris Fashion Week. Yet, somehow, the label and its frontman, co-founder Demna Gvasalia, remain a mystery to many — despite Gvasalia's graduation from Antwerp's Royal Academy of Fine Arts and stints at both Maison Margiela and Louis Vuitton, not to mention his appointment as Alexander Wang's replacement at Balenciaga. In an attempt to remedy all that, Suleman Anaya sat down with Gvasalia for SSENSE, linking up with the Georgian designer at Vetements' hangar-like showroom on the Boulevard de Strasbourg in the 10th Arrondissement. In the lengthy conversation that followed, Gvasalia reflected on everything from his youthful days in ex-Soviet Georgia and his time at Margiela and Vuitton to Vetements' attitude, what attracted him to the Balenciaga position, and much more.
While an excerpt of the interview appears below, the piece can be read in its entirety over at SSENSE.
Right off the bat, I think you threw the best party Paris Fashion Week has seen in a long time, so thanks for that. It almost felt like London or Berlin in terms of music and energy.
That was the point – that for five hours you could imagine you weren't in Paris. So we got a DJ from Berlin, and everyone loved it. Even I was a bit surprised by how freely everyone enjoyed themselves. At one point, five of the girls we had cast on Instagram for our show were dancing completely topless in a circle. It was fun, totally carefree, and very pure at the same time.

You are the "Toast of Paris," to use a corny phrase. But if things had turned out differently you could have been a banker in Düsseldorf. Not many people know about your connection to Germany.
My family moved from ex-Soviet Georgia to Düsseldorf in 2000, and I stayed there for a year and a half. It was a brief period, but significant in that it was where I figured out what I wanted to do. I had studied economics in Georgia, just because my parents didn't believe that fashion design could be a real profession one could live off of. So I had my bachelor's degree in economics, and when I arrived in Germany, the idea was for me to get a job at a bank. But in Düsseldorf, I decided I owed it to myself to do what I really wanted to do, and in 2002 I started my studies at the Royal Academy of Fine Art in Antwerp.

What was growing up in Georgia like?
Up until 1991, Georgia was part of the ex-Soviet Union, so I had a Soviet childhood. I was brought up with Stalinist, Leninist, and Communist ideas and deprived of any kind of real information. There were only two magazines that had some vague fashion references in them, which of course had nothing to do with what was going on in the West. Then the Soviet Union collapsed, and Georgia opened up. It was like an explosion. Suddenly you had Fanta and Coca Cola, and Vogue. There was a glut of foreign influences. Now we had McDonald's, and the coolest thing was to have your birthday party at McDonald's. I remember I celebrated my birthday there once, and it was like "Wow!" It was like going to Caviar Kaspia here in Paris. It was so colorful, and Happy Meals actually made people happy.

Do you think that vacuum has informed the way you see things? There seems to be a residual fascination with the iconography of freedom and capitalism in Vetements collections, as in the DHL t-shirt that opened your last show.
I guess to some extent that delayed cultural formation did shape me, because I had such a hunger for discovering and knowing things that my generational peers already knew.

When did you know you wanted to design clothes?
I have wanted to do this for as long as I can remember. As a child, I was obsessed with clothes and kept changing outfits, just because I wanted to try a new look. Keep in mind this was in a Soviet country where millions of kids wore the same clothes, so the variety of what I had to work with was limited. But the lack of means pushes you further. I also loved looking at the women around me, what they were wearing.