Kendrick Lamar Meets Quincy Jones
K.Dot sits down with Quincy Jones for 'HYPETRAK Magazine.'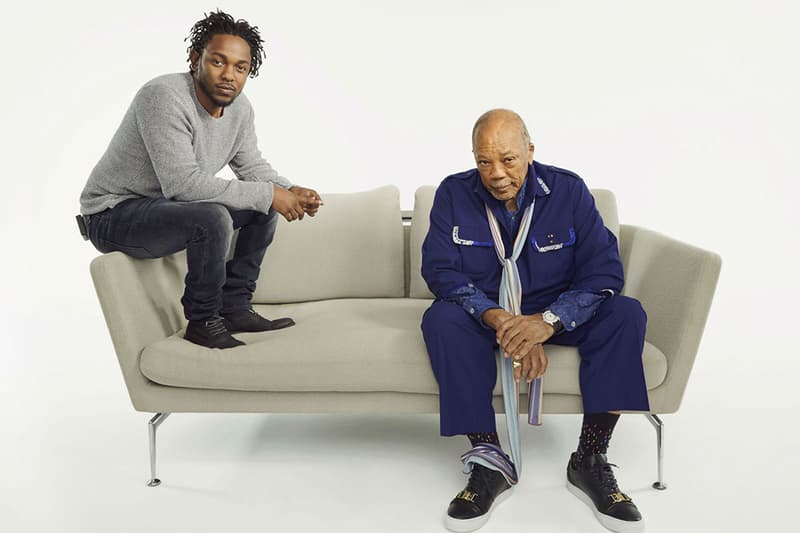 It's not often that we get an intimate look at a conversation between a legend in the making and an outright icon, but that's exactly what we get with HYPETRAK Magazine's latest cover story: Kendrick Lamar sitting down with Quincy Jones. With the theme of "generations" in mind, K.Dot sat down with the 27-time GRAMMY Award-winning musician to glean some knowledge and inspiration, ultimately coming away with a deeper understanding of how Jones's own Chicago roots and musical contributions helped lay the groundwork for hip-hop and, specifically, Lamar's fusion of the genre with jazz and blues. While an excerpt of the story appears below, more can be seen over at HYPETRAK.
For the full cover story, pick up the second issue of HYPETRAK Magazine now via HBX.
The revolving door of history is life's greatest mentor, and while it's always at your disposal, it's up to you to know when to question it or when to let it question you…

As the Californian smog succumbs to our relentless sun, a multipurpose studio bustles with frantic party organizers prepping for a night of shameless fun at the expense of your ordinary out-of-touch corporation. Hidden in a small room away from the commotion, Kendrick Lamar, "hip-hop's newest savior," sits hunched over on the arm of a couch eagerly absorbing every word of the charming, soft-spoken man relaxing in the seat before him. Commanding the attention of the two-time GRAMMY Award-winning emcee is 27-time GRAMMY Award-winning musical legend and cultural icon, Quincy Jones.

A man whose résumé includes helping introduce the world to the beauty of jazz, the genius of Michael Jackson, and the power of hip-hop, Quincy has paved the way for so many musicians, composers, producers, entrepreneurs and philanthropists alike. Born to a generation that used music to inspire those fighting in the Civil Rights Movement, Quincy now spends a significant portion of his time ensuring the youth of today are being led by a batch of musicians dedicated to raising the culture and amplifying their voice.

In our inaugural issue, we interviewed Kendrick only days before the release of "i" – the first single off his third studio album, To Pimp a Butterfly. At this time, the now 28-year-old "luminary" was just beginning to grasp the voids within hip-hop, his creative genius, his global impact and the responsibility that follows, to his generation, Compton, the culture, the youth, and the world.

With the theme of this issue centered on "generations," we wanted to sit Kendrick down with a man that not only understands his burden, but why the culture has remained so "stagnant."

So while the young rap superstar walked in focused on his first-ever meeting with Quincy, hoping to leave with a greater appreciation for his repertoire of work and hip-hop's roots, Quincy calmly bops through the doors knowing that he's here to make sure the youth and the culture are in good hands.
Join Our Discussions on Discord
The HYPEBEAST Discord Server is a community where conversations on cultural topics can be taken further.