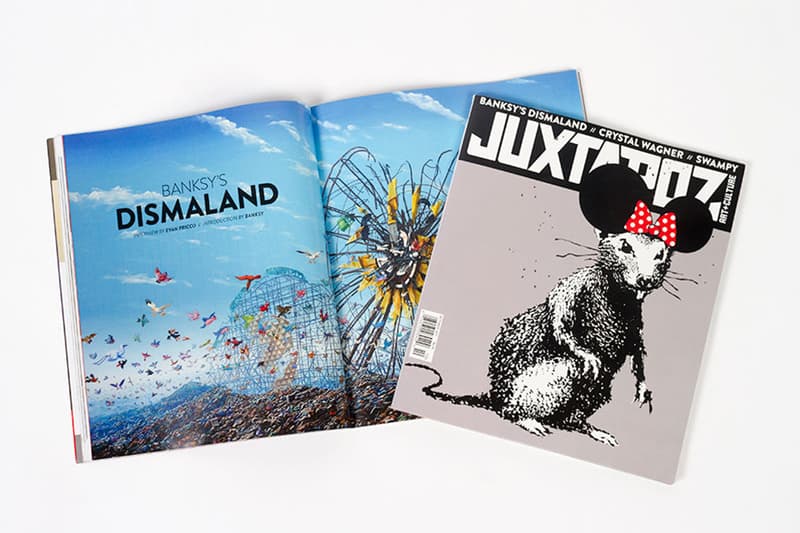 Banksy Covers the 2015 October Issue of 'Juxtapoz'
'Juxtapoz' lands an interview with the elusive street artist.
---
Fresh off this summer's Takashi Murakami cover story, Juxtapoz is the latest to highlight Banksy's "Dismaland" exhibition, landing an exclusive interview with the elusive street artist for its October 2015 publication. Inside, Banksy talks "Dismaland" at length, shedding light on his biggest project to date as Juxtapoz bills the exhibition as "an art show for the 99% who would rather not be at an art show." While an excerpt of the interview appears below, the piece can be found in its entirety in the new issue, which is available now on newsstands and via Juxtapoz's own web store. "Dismaland" is open through September 27 while more information on attendance can be found over at the official website of the "Bemusement Park."
Tell us about your role here. Has it been an interesting process being a curator? Is it a role that you enjoyed?

It turns out curating can be surprisingly creative. For instance, I asked Jenny Holzer for one of her electronic signs, but she didn't have anything in stock. She said she was happy to supply the text, but I'd have to find some signs. I asked a lighting guy to get a big LED screen and he came back with a system that cost £8,000 GBP a week to rent. I couldn't afford that, so I suggested we record Jenny's slogans and play them over the Tannoy system. She liked the idea and said she'd never done anything like it in forty years. So now we have a totally original Jenny Holzer that cost fuck all.

Did you do a lot of editing? Were there things you liked at first that got cut out and other things that grew because you liked the direction they were heading?

A lot of the decisions have been made by neglect. I put together a whole list of artists and pieces I wanted, and then, a month later, if I hadn't done anything about it, I knew it probably wasn't worth pursuing. When you're busy, the most important things have a way of asserting themselves. I discovered "not now" is as valid a reaction as anything else.

How much does the reaction matter to you? I know it matters to us, the critics and audience, but forget us for a second. Does it matter to you?

I'm at a point with art where I only really care if the piece is more than the sum of its parts. I'm lucky because what I make either succeeds or fails. Some people undoubtedly would tell you that's why it's crap art, but that's the way it is. I feel sorry for Abstract Expressionists—how do they know when to go home?

All I need is to make my point and get something more out of it than what I put in. If something extra has happened between the idea and realizing it, that's a win. This week I surrounded my Cinderella's carriage with a ring of paparazzi, and the flash bulbs made the shadows leap around the room, and the pumpkin looked like it was lit by flickering candles, so I'm good. I never saw that coming.

My satisfaction level is independent of your opinion. If I feel a piece has worked, there's nothing you can say that will take that away. And the flip side is, if I know it's failed, there's nothing you can say that would make it OK.

This project, in particular, is so destination-based that you will really rely on audience reaction. You have always been good at controlling your message, but did joining social media teach you anything that you liked? Or disliked?

The last show I did was at the Bristol Museum and a lot of people came. In fact, the queue was the most interesting thing about it. I don't know if people will show up this time, but I made a few pieces with the audience in mind: the Cinderella sculpture is only complete when surrounded by a gawping crowd snapping photos. The audience is the punchline. Likewise, the killer whale is crap in real life. It's only good when you pose behind it pulling a face and send a picture to your mate.

What are you hoping visitors take away from Dismaland?

A souvenir programme, three T-shirts and a mug. Each. This project isn't sponsored or government aided; it's self-financing.