size?'s Paul Ruffles Picks His 15 Favorite Sneaker Releases
The finest releases of the UK-based sneaker goliath.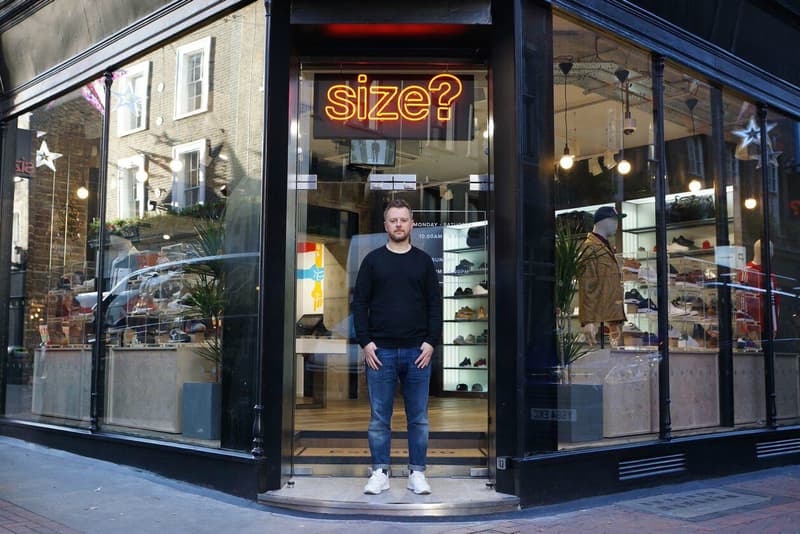 The cult of the shoe hoarder is nothing new. In 2015 it's more of a global phenomenon than the band of cynical Footscape enthusiasts, or dedicated crews of knowledgable terrace types with stashes of dusty suede masterpieces, than it was in early 2000. 15 years ago, the minds behind size? realised that the space for a non-performance consumer, who wanted sneakers for rocking rather than running a marathon, was substantial.
At the time, Nike's sport classic reissue output was gathering steam (yes, there was a time when an older Air Max on a store shelf was something of a novelty) and adidas Originals was really taking shape with an ambitious and unexplored rollout of retro shoes. Experimental athletic shoes were being sold into boutiques too, with a Tokyo trend for limited edition abstractions creating a new crossover.
size? opened on London's Carnaby Street in a world where shoe news wasn't nearly as blog fuelled as it is now. It promised limited editions, declared new arrivals on blackboards and encouraged a signed Polaroid snap of you lovingly clutching your latest purchase to add to the wall display. In the middle of a tourist hotspot, window displays showcased odd Pump Fury makeups or a Chinese New Year AF1. It was the seemingly niche given some heavy footfall — a blend of commercial and experimental tastes that became an industry leader.
Having expanded to over 30 spaces, including stores in Dublin, Amsterdam, Paris and Milan (with a Copenhagen shop opening shortly), it's proof positive that the appetite for sports footwear, despite changing appetites (think mania over colourful Dunks switching to vulcanised Vans then Jordan fanaticism and all-white adidas), gets more ravenous year on year. Nowadays, even your parents might be considering stashing Yeezys as some form of pension plan.
This Saturday, a pioneering destination gets an upgrade with more stock, more exclusives and a superior shopping experience. To commemorate the Carnaby size? store's reopening, size? and Footpatrol's MD, Paul Ruffles picked a few of his favourite projects from the last 15 years. As a shoe retail veteran, Ruffles' connection to some of these designs runs deep.
---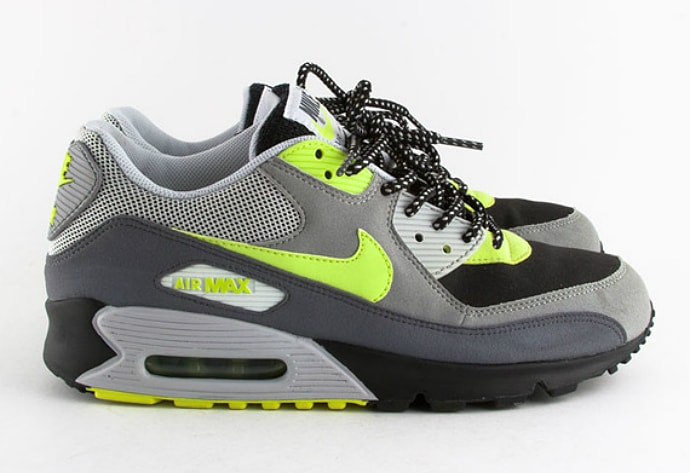 "The queues were substantial and the shoes were sought after from the get-go."
---
Nike Air Max "Neon Pack" 2005
To commemorate the Air Max 95's 10th anniversary, the neon, grey and black palette (originally applied to the AM95 to grab attention but hide dirt during runs) was applied to an Air Max 1 and Air Max 90. Launched with an event called 'Wet Paint', where artist Dave White painted Sergio Lozano's masterpiece. A white AM95 with neon hits retained went on sale too. The queues were substantial and the shoes were sought after from the get-go. A Nike Stab (which had just been reissued at the time) in a matching makeup was showcased but never sold at the time — it took half a decade for it to officially release as part of the size? 10th anniversary celebrations.
New Balance 577 "Clerks Pack" 2006
The second set of size? and New Balance shoes (the first was released in 2005) capture a time before a global hunger for classic NB runners. The UK-made 577's stealthy shape from this era is loved by those who know, capturing the 1989 era of high mileage design, and the first drops included makeups created by staff from size? stores (including John Brotherhood who now oversees Footpatrol's collaborative output, among other things). If you worked with NB at this time, getting a custom midsole meant a relatively high minimum, so each release used a black and orange sole in some capacity. Special packaging and matching keyrings made it a little more special. It's strange to imagine a time when a release like this could consist of less than 80 pairs of each colourway, but 2006 feels like a different world in comparison to the current market.
Nike "Clerks Pack" 2006
Nike's Clerks Pack initiative launched in 2005, working with American stores like Stüssy, Union, True and Undefeated to create shoes based on the stores, their cities and their clientele. In 2006, size? took up the challenge and created store specific takes on some Nike runners — a Brighton Air Max 90 was based on the scenery and locale, an Air Stab was based on Carnaby Street in its swinging heyday and an Air Max BW was waterproofed in line with Manchester's inclement weather.
---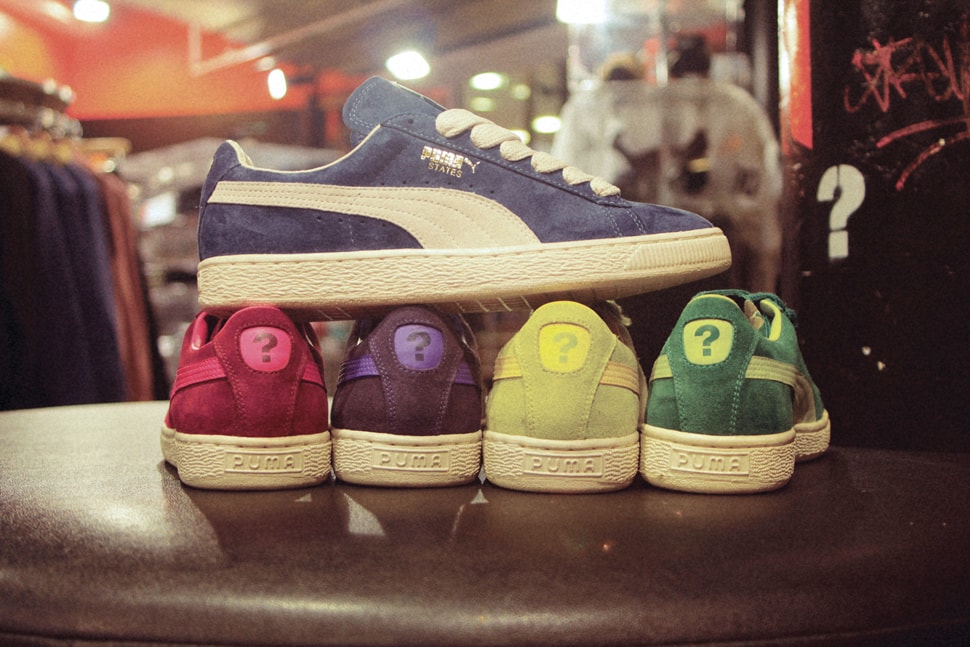 "A simple question mark on the heel let the makeups make the statement."
---
PUMA States size? collection 2006
As a hip-hop obsessive, Ruffles knows the impact of PUMA's States silhouette in Europe. While the Clyde had become popular collector currency through its relaunch a year prior, the more fitted nuances of this model needed a push beyond the folks who already understood its importance. Highlighter-themed colourways and a launch party headlined by the MC's MC, Big Daddy Kane fulfilled some childhood ambitions while building on PUMA's retro business in-store. A simple question mark on the heel let the makeups make the statement.
New Balance 577 "Fruity Clerks" 2007
The third size? New Balance collection was designed by the crew at the Birmingham store (once again, with John Brotherhood on board) who won the brief over the other store teams by referencing the fruit machines and colours in the Temple Bar — the original resident of the building where size? stood. Limited to just 250 pairs of each colourway, that seemed like a general release compared to the four pairs made of the "Jackpot" shoes that were given to competition winners who didn't get the grand prize of a full-size New Balance fruit machine.
adidas "New Cities" 2010
adidas's coveted City Series remains the most revered output from the brand for legions of collectors. The leisure shoe simplicity makes small details like gum soles or contrasting stripes resonate even harder. Teaming with adidas for the 10th anniversary of size?, the New Cities collection debuted — the adidas London had existed before, but this slightly altered reissue was limited to just 500. The adidas Manchester proved incredibly popular, as did a leather take on the classic Dublin. Those releases were followed by the Glasgow, Cardiff and Cadbury's chocolate (a local company) inspired Birmingham. Old favourites and new inductions into the line made this a particularly tasteful kind of hype.
Nike "Lunar Vintage" 2010
Ruffles concedes that these were released a little too early, prior to a real boom in tech runners at trend level. In addition to old favourites like the Mariah PR in Air Flow style colours and materials (a real nod to connoisseur appetites for that experimental era), this pack also included the new Lunar Mariah in Terra ACG and Sock Racer makeups, plus the Lunar 180 in Huarache and Terra ACG palettes. Lightweight and trail running models have erupted in popularity since.
PUMA & Bodega Blaze of Glory "Reaction Pack" 2010
PUMA's Blaze of Glory is a 2000s adaptation of their early 1990s DISC Blaze design. After debuting as a Sneaker Freaker collaboration, the design was used as part of this 10th anniversary collection that drafted in friends like Boston's Bodega team, whose conceptual creations remain some of the best in a collaboration drenched marketplace. Two makeups, including one in the recurring size? black and orange palette, camo linings, SIZE? MATTERS BODEGA on the tongues and some low numbers pre-empted the current interest in this modernised silhouette.
Nike Bruin Vintage size? exclusives 2012
Post-Mag madness there's a little more awareness of the Bruin's relevance as a silhouette. The vintage suede and classic looks are subtle and the Bruin had a real legacy as the first coveted Nike shoe for a lot of UK fans back in the early 1980s. Originally released in 1972, this was one of Nike's first attempts at a basketball shoe, and the two size? exclusive drops between 2012 and 2013 did it justice by avoiding any excessive treatments to a staple sneaker.
adidas Archive collection 2013 —
Being able to dip into an enviable collection like adidas's and resurrect old favourites and superior obscurities alike is a dream project. Just as adidas began its Archive initiative online, size? launched the Archive line, an ongoing series of retros — Trimm Stars, Trimm-Trabs, Tobaccos, Oregon Ultra Techs, Tech Supers, Boston Supers, the Suisse and Topangas are the stuff of wish lists for those who really understand what constitutes classic design.
adidas ZX 9000 "Select Collection Reflective" 2013
1989's ZX 9000 design was a British sports shop classic in its day and was a key shoe for rudeboys and clubbers alike. This size? exclusive kept it low-key until the lights hit it, which is when the 3M did its thing. Nearly every shoe looks better with either a gum sole or some 3M on it — this duo of makeups was proof of that.
---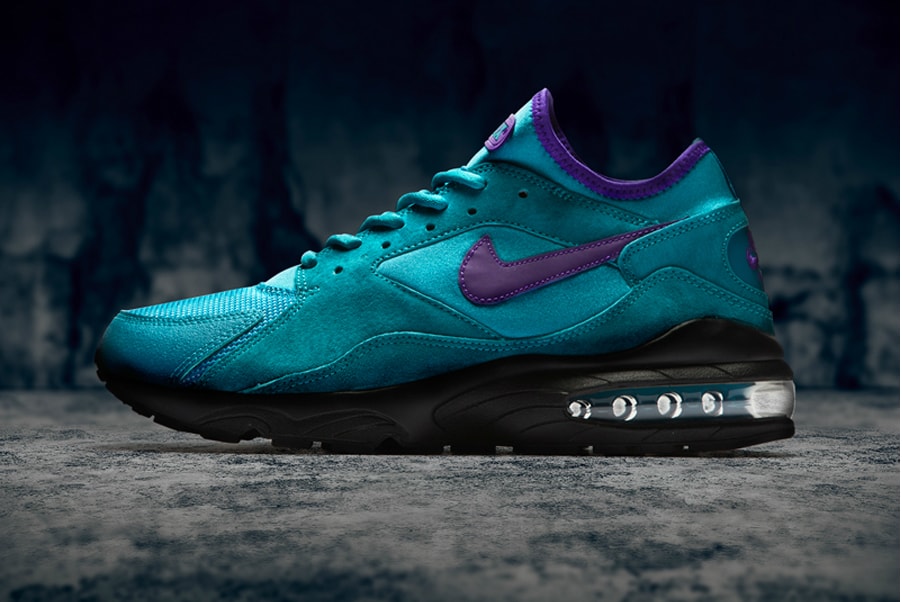 "Ruffles recalls this shoe blowing up his phone and email account more than any other release."
---
Nike Air Max 93 "Teal Pack" 2013
The Teal Pack used a fan favourite colour on a frequently slept on Air Max and partnered it with a take on the then red-hot Huarache. Ruffles recalls this shoe blowing up his phone and email account more than any other release, with begging requests from friends, family and strangers alike. At the time, the AM93 was a size? exclusive, relaunched a few months earlier when they literally sent a pair into space to a Souls of Mischief soundtrack. The key to this specific edition's appeal? It looked true to its era — like the kind of obscure makeup a friend might acquire from an overseas relative back in the day.
adidas ZX 9000 "Select Collection Memphis" 2014
Another ZX 9000 pack that was only available in size? stores. The Memphis nickname refers to the 1980s Milanese design and architecture group, whose provocative use of colour and pattern defines its era even more than this silhouette does. Homaging Ettore Sottsass's pioneering patterns (which also made an appearance on a superb adidas APS a decade prior), these brought German precision and a more playful Italian approach to aesthetics together perfectly.
Vans California "Clean White Collection" 2014
In an era where everything has a needless nickname, at least clean is appropriate here. Too often, "clean" is a polite/delusional way to be positive about a boring shoe — the materials and versatility here brings out the best in some flawless Vans silhouettes. It's good to have a release that works with every outfit rather than the same old statement shoes.
ASICS Tiger Gel-Lyte III '"Iris" 2015
1990's Gel-Lyte III is a shoe that made its original retro appearance in the mid 2000s to a more muted reception — those who knew, knew though. After the shoe gathered steam with a series of collaborative projects its status was cemented. size? were one of 25 partners for the shoe's 25th birthday, and they picked the iris flower because of its traditional use for that specific anniversary. Subsequently, this split-tongued runner got a floral makeover.
Check out the new size? Carnaby Street store here, and keep an eye out for more from size? and Paul Ruffles in the near future.