We're Not Afraid: Vic Mensa Speaks out on the Chicago Protests
Vic Mensa offers us an exclusive first look at his "Black-out Friday" collection, with proceeds going to Chicago Organizers.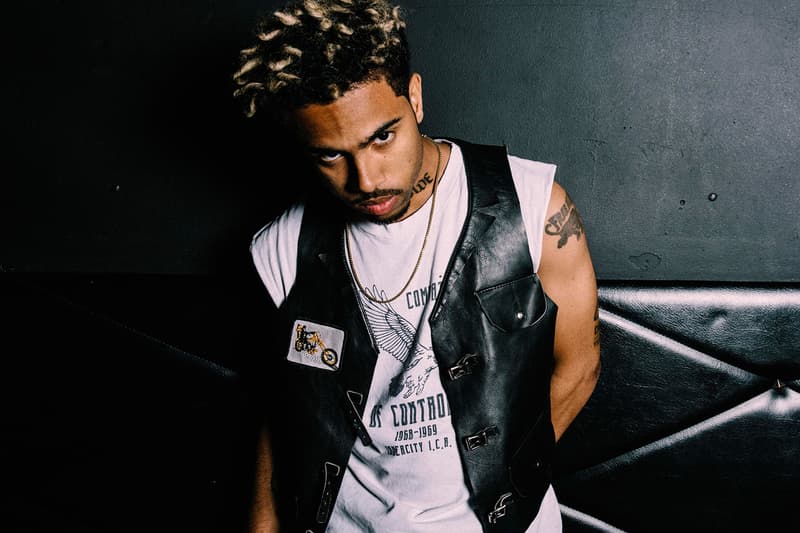 In light of his upcoming "Black – Out Friday" collection, which although unplanned, appropriately coincides and artistically aligns with representing the unrest ravaging the streets of Chicago, Vic Mensa took the time out to update HYPEBEAST on the inspiration behind his release. All eyes are on Chicago as the city reacts to the release of police dash-cam footage depicting since-deceased resident, Laquan McDonald being graphically shot to death at the hands of officer Jason Van Dyke. Vic's words are further supplemented by his personal experiences as an active participant in this week's protests. Read as the "Southside's" own offers his perspective and optimistic hope in regards to Chicago's most recent plight.
What was your motivation in designing the "Black – Out Friday" collection?
Visually, the central graphic is the "beat down image" and the red circle on the back of the tees are a "target." The beat down image is an aesthetic that depicts urban youth clashing with police officers. It symbolizes our anger, frustration and no love towards what's pictured. As people of color, I strongly feel as if we are born with a red dot on our backs, hence the target motif. The shirt in itself is an acknowledgment of the situation of fear and violence we are thrust into, while expressing the sentiment of no longer being afraid. "Yes, I'm a target, and I'm not running."
Could you offer more insight on the creative direction of the graphic?
The graphics are reminiscent of old school, punk rock t-shirts, album art work and classic hip-hop (Public Enemy). Black is the color of all — everything is black, contrasted with red, which suggests strength, fire and anger.
This collection serves as a channel for you to make a meaningful impact through fashion, as a musician, how do you plan on doing the same through music?
Through my lyrical content. I have a lot of new music on the way as I look ahead towards my album release that revolves around what is transpiring and my Chicago roots.
1 of 4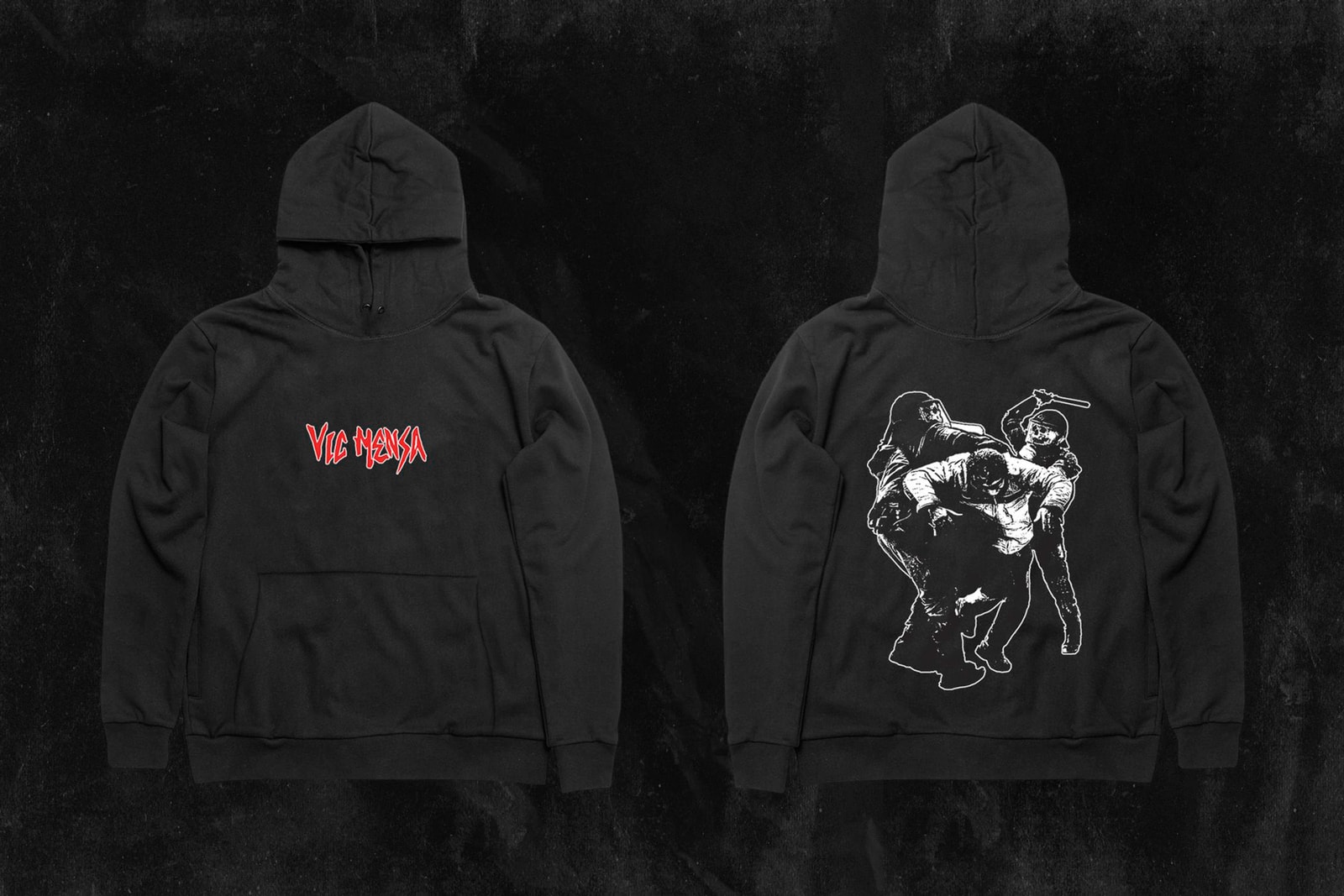 2 of 4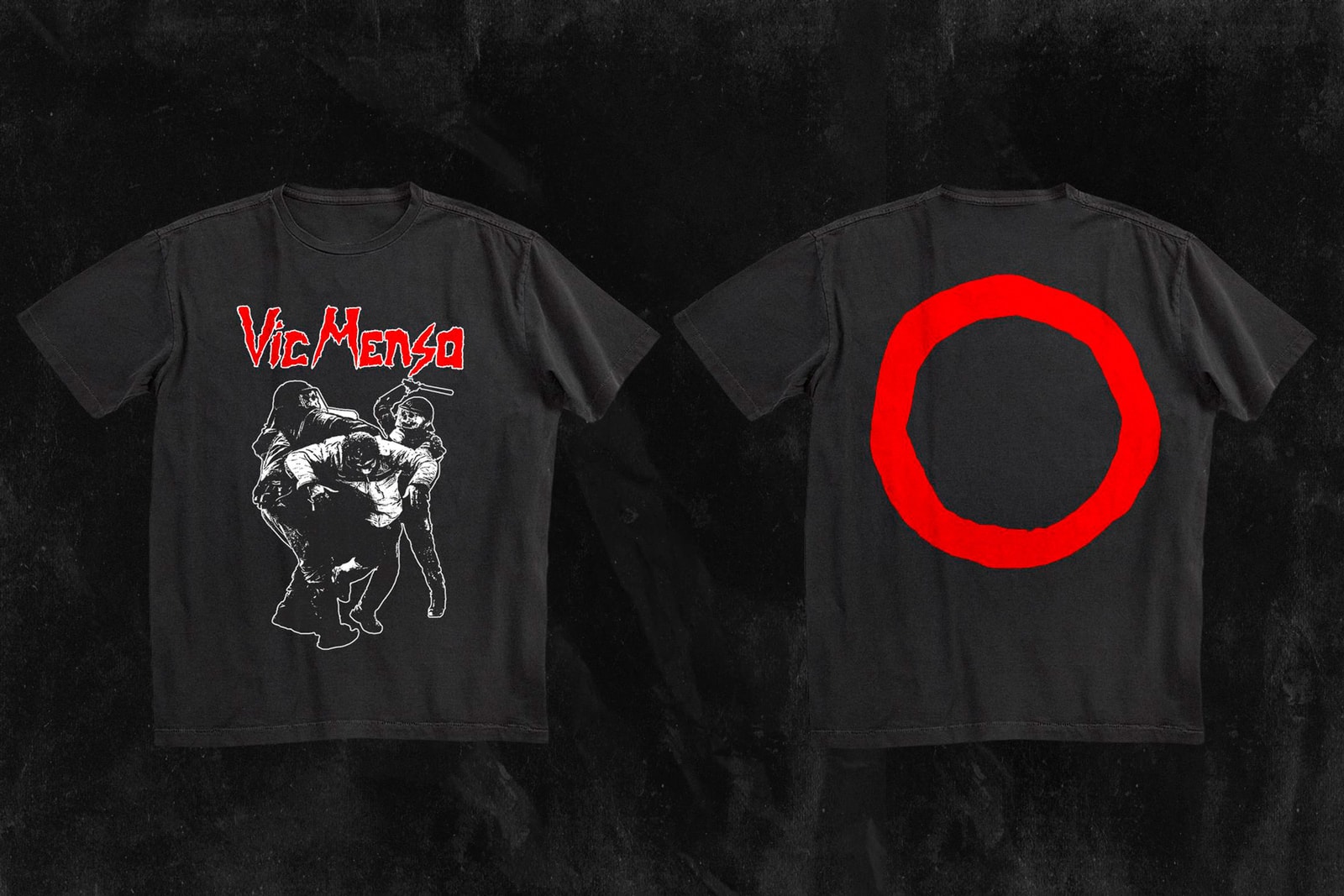 3 of 4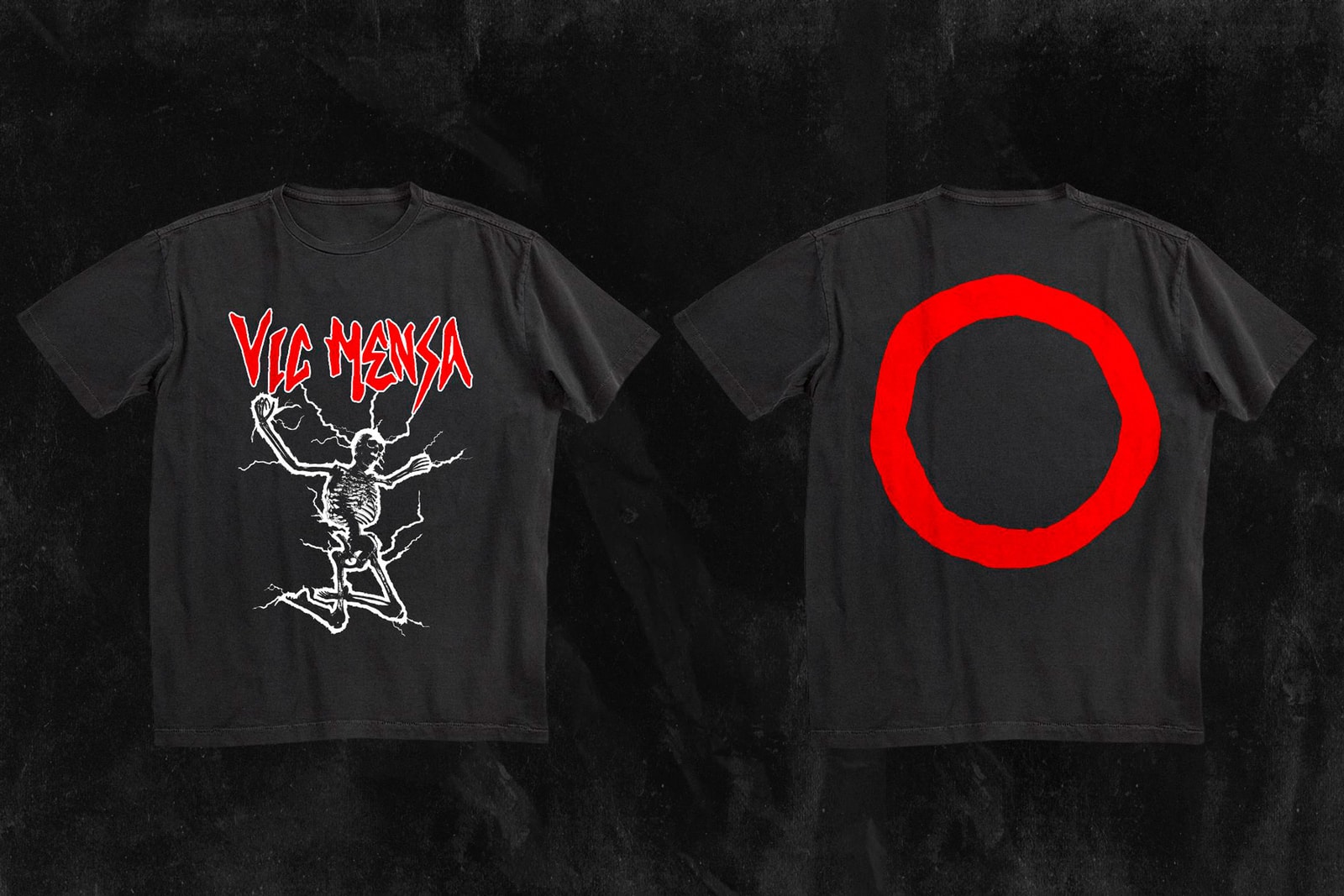 4 of 4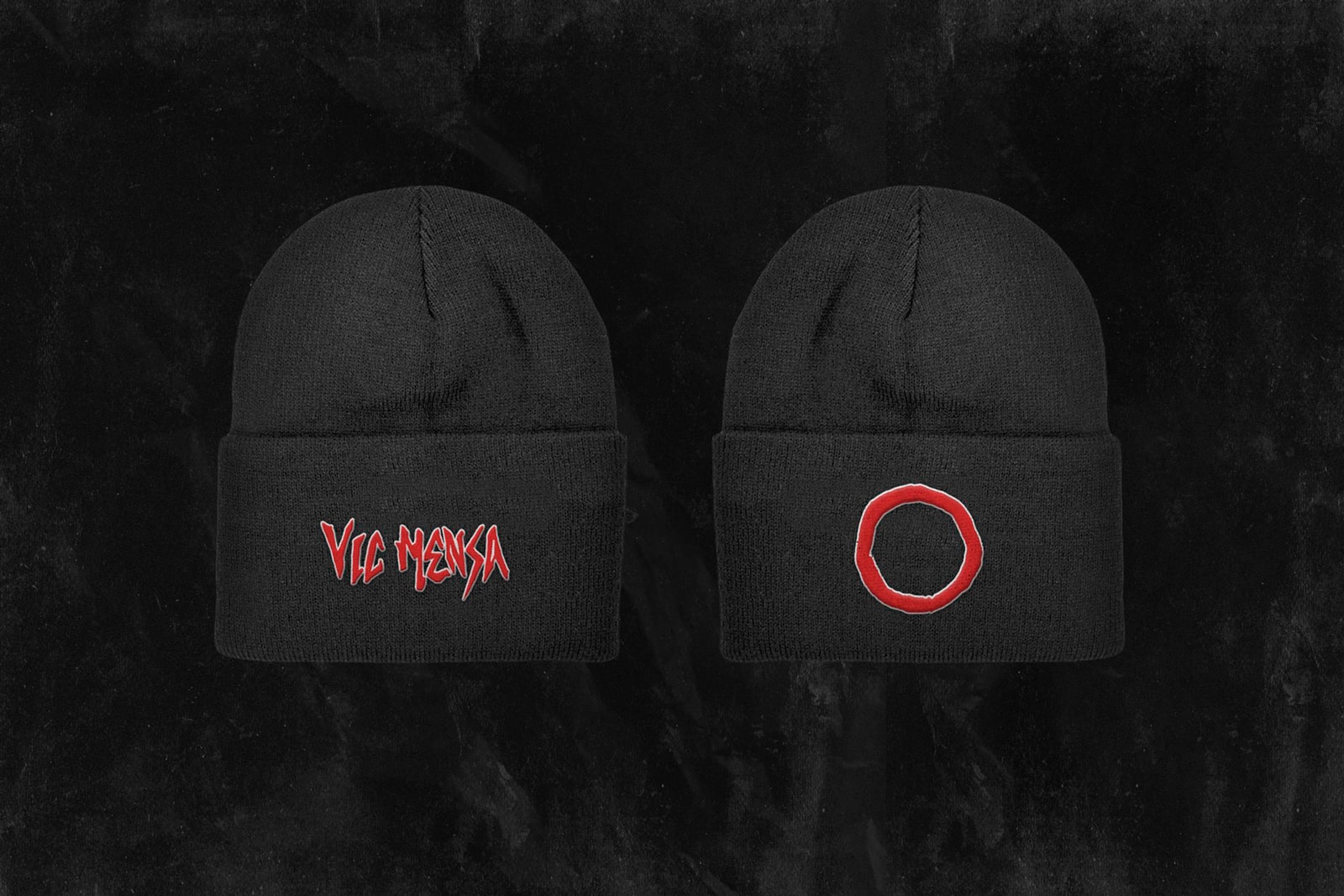 With all the negative publicity Chicago receives from the media, can you tell us what makes it one of America's great cities?
Chicago represents the struggle, specifically black struggle. It is a largely African-American dominant city, and through our struggle so much beauty has been born. Everything from rap music; reggae, jazz, blues, rock and roll, Basquiat, and countless revolutionary, beautiful art forms have been born from this struggle. Chicago is really home: it is a city that despite all of the violence and hatred that exists, there is still so much beauty and talent that continues to burst free that has been truly world dictating, dominant art.
As an active, on-grounds participant in this week's' marches, could we get a first hand account on what the atmosphere has been like?
There are a lot of angry, frustrated youth clashing with jaded, majority racist, oppressive police officers. There are kids of all races walking with us; there are police pushing young girls – the situation on the streets is hectic, but with direction, it has been an effective outing. It is imperative to show that we are not going to lay down and stand for this bullshit. It's violent out there: it's not really safe for walking, occupying space, exercising our right for freedom of speech. I had cops grab and try to arrest me…
Chicago is quite collaborative on the music front, what would you like to see from the music community in response to the chaos that has taken place?
We need vocal support, coupled with a physical presence. When I got the initial call of what was taking place, I jumped on a plane and came home. I was in the streets that night because Chicago means more to me than anything. Chicago is family, Chicago is home. These are the streets I grew up running through. If there is a place we have ownership over, a right to defend, a right to stand in, it is these streets.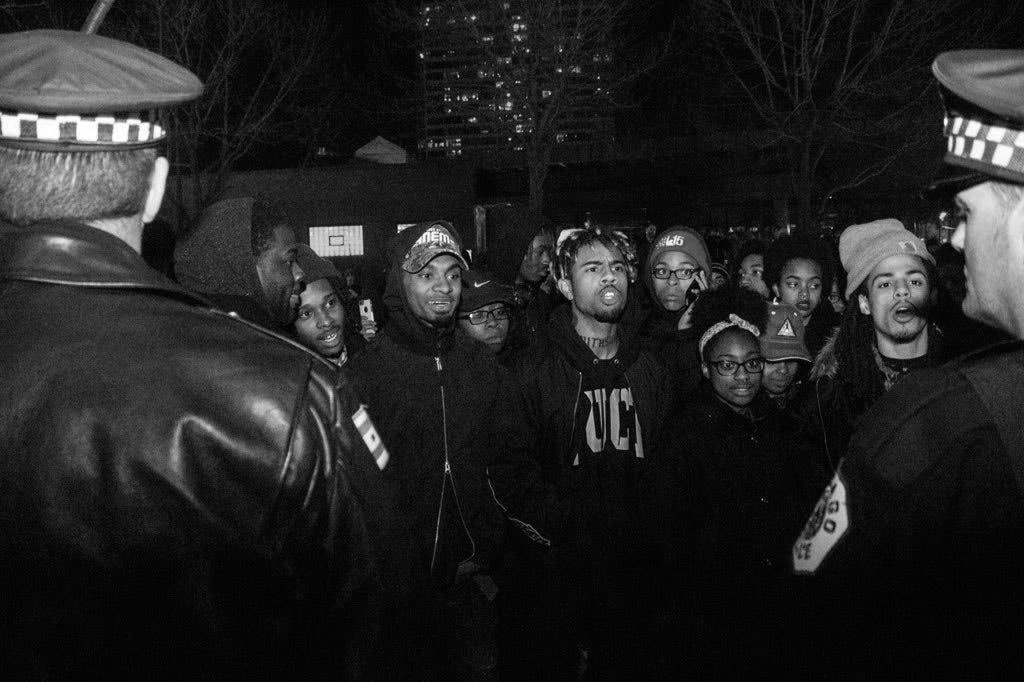 Proceeds from the collection will go to Chicago Organizers — could you please speak more on this endeavor?
The crew I've grown up with is
Savemoney
, and there are different facets to our squad. Some of the guys are not primarily involved in music — what they do is lead these movements and protests. These are my people, and they do not have funds. The proceeds will in part go out to pay the bail for those jailed during the ongoing protests, and ensure everyone is ok.
You are a young leader dedicated to the cause of securing a better future for Chicago's youth: what changes do you envision, and how are you going about pushing for such changes?
Changes I want to see happen are the resignation of the Police Lieutenant from Jason Van Dyke's precinct and I want Mayor Emmanuel out of office. Overall, I want more unity amongst the people of Chicago. This starts with recognizing the importance of our lives and keeping the conversation going. I want the violence to end amongst our people — if instead of fighting each other, we stood up against those oppressing our community, we would be in a much better place.
What are your next steps as the Chicago marches saga continues?
I am never clocking out. Whether or not I am physically in the streets, I want my people to know I am here and will continue to fight for our city.
Aside from Friday's collection, what else have you been working on?
I have a couple of major plays in store: music-wise, I have been creating, and taking time to put things together the right way. Right now, what I am working on is material that will go up against the test of time. You can expect new music very soon…in the next month or two, and it will totally change people's perspective of rap at the moment.
Vic's "Black-Out Friday" collection is now available for purchase directly from shopvicmensa.com.
What to Read Next
"…there's much more to come," Mensa shared.
---
While Instagram plans to "double down" on video content in 2022.
---
2,300 current and former female employees may be eligible for compensation.
---
Largely due to semiconductor supply issues.
---
Just free throw and you're done.
---
Some weekend tunes from Andre 3000, Kendrick Lamar, Young Thug, Leon Bridges, Mike Dean, BADBADNOTGOOD, MF DOOM and more.
---
A web exclusive silhouette.
---
The retro sneaker receives a high-fashion update.
---
The former lovers meet again.
---
Inspired by the Autumn hues of Tuscany.
---
---
A striking colorway for the ladies.
---
Stream the new mixtape, 'Renzel Remixes,' from one of rap's biggest ghostwriters.
---
The Odd Future visionary's latest interview.
---
More ▾