Yeezy Season 2: Mens Full Pricing List Revealed
A full cost list of each item's suggested retail pricing.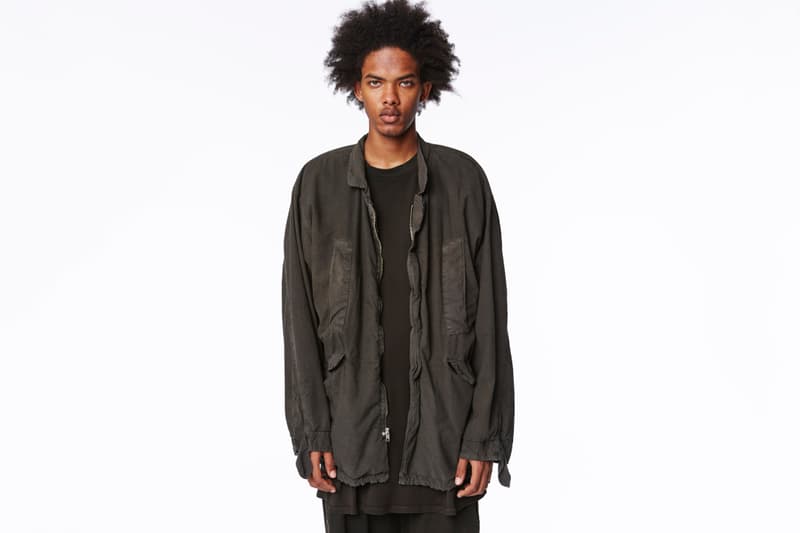 Following the pricing for Season 1's offerings, the pricing for Kanye West's highly anticipated Yeezy Season 2 has also been revealed. According to a pricing sheet from an unknown source, the consumer costs are more than your average fair share of domestic streetwear brands, with some T-shirts starting at approximately $230 USD and boots at approximately $620 USD. The most expensive piece of clothing in the season appears to be a Bonded Fire Jacket at around $940 USD, while the least expensive is a light cotton jersey tank top for approximately $165 USD.
Check the list below for all (approximate) suggested retail pricing converted to USD, along with their available colors.
For Womens pricing, check here.
Yeezy Season 2: Mens
Item – Color – Approximate Retail Price.

TOPS
Mens Muscle Tee – Natural, Shade, Military Dark, Sandstone – $225 USD
Mens Tank Top – Military Dark, Natural, Sandstone, Shade - $220 USD
Mens Tank – Military – $185 USD
Mens Tank – Military Dark, Natural, Military Light, Sandstone – $260 USD
Mens Regular Fit Tee – Military – $190 USD
Mens Regular Fit Tee – Military Dark, Natural, Military Light – $265 USD
Mens Regular Fit Tee – Natural, Shade, Military Dark – $230 USD
Mens Oversized Tee – Military Dark, Natural – $210 USD
Mens Oversized Tee – Military – $215 USD
Mens Longsleeve Tee – Military – $215 USD
Mens Longsleeve Tee – Military Light – $270 USD
Mens Longsleeve Tee – Natural, Military Dark, Sandstone – $310 USD
Mens Muscle Tee – Military – $180 USD
Mens Kimono Top – Military Light, Sandstone, Brownstone, Military Dark – $455 USD
Mens Mock Neck Pullover – Military Light, Military Dark – $655 USD
Mens Track Pullover – Off-Black – $680 USD
Mens Sweatshirt – Natural, Military Dark – $665 USD
Mens French Terry Crewneck w/Rib – Natural, Shade, Rust – $395 USD
Mens Crewneck w/Rib – Military Dark, Shade, Natural, Sandstone, Haze – $475 USD
Mens Crewneck w/Rib – Natural, Military Dark – $590 USD
Mens Crewneck – Sandstone, Natural, Shade – $475 USD
Mens Thermal Longsleeve – Military Dark, Military Light, Military – $370 USD
Mens Mock Neck Sweatshirt – Haze, Sandstone – $565 USD
Mens Hoodie w/Pocket – Natural, Rust, Sandstone, Military Dark – $430 USD
Mens French Terry Hoodie w/Pocket – Sandstone, Shade, Haze – $590 USD
Mens French Terry Hoodie w/Pocket – Natural – $665 USD
Mens French Terry Zip-Up Hoodie – $685 USD
Mens Hooded Track Jacket – Military, Shade – $430 USD
Mens Double Cotton Hooded Track Jacket – Off-Black – $680 USD
Mens Workwear Jacket w/Hood – Military Dark, Shade – $620 USD
Mens Bonded Fire Jacket – Brownstone, Military Dark, Military Light – $940 USD
Mens 10oz M65 Jacket – Shade, Military – $505 USD
Mens Moleskin M65 Jacket – Sandstone, Military Dark – $655 USD
Mens M65 Jacket – Military Dark, Brownstone – $735 USD
Mens Flight Jacket – Natural, Off-Black – $430 USD
Mens 18oz Flight Jacket – Military Dark, Natural, Shade – $550 USD
Mens Double Cotton Flight Jacket – Brownstone, Military Dark – $710 USD
Mens Gauze Bomber – Military Light – $680 USD
Mens 18oz Bomber – Military Dark, Sandstone – $565 USD
Mens Bomber – Natural, Military Light, Sandstone, Off-Black – $680 USD
Mens Bomber w/Zips – Military Light, Brownstone – $750 USD
Mens Workwear Bomber – Shade, Military Dark – $580 USD
Mens Anorak – Sandstone, Military Dark – $555 USD
Mens 18oz Hooded Anorak – Sandstone, Military Dark – $605 USD
Mens Overcoat – Military, Off-Black – $555 USD

BOTTOMS
Mens Shorts – Military Dark, Military Light, Natural, Shade – $285 USD
Mens Longer Shorts – Sandstone, Shade, Haze, Military Dark – $490 USD
Mens Longer Shorts – Natural – $545 USD
Mens Shorter Shorts – Shade, Haze, Military Dark, Natural, Sandstone – $455 USD
Mens Elastic Workwear Pant – Haze, Military Dark, Brownstone – no pricing available
Mens Cargo Pant – Military, Military Dark - $595 USD
Mens Cargo Pant w/Side Pockets – Shade, Brownstone, Military Dark – $610 USD
Mens Cargo Pant w/Front Pockets – Military Dark, Brownstone, Military – $610 USD
Mens Thermal Pant – Military Light, Military Dark, Military – $395 USD
Mens Workwear Pant – Military Dark, Natural, Brownstone – no pricing available
Mens Workwear 18oz Pant – Haze, Brownstone, Military Dark, Sandstone – $555 USD
Mens Slim Workwear Pant – Haze, Shade, Military Dark – $530 USD
Mens Sweatpant – Rust, Natural, Military Dark – $390 USD
Mens French Terry Sweatpant – Natural, Sandstone, Shade, Haze, Military Dark – $590 USD
Mens Sweatpant w/Zips – Shade, Haze, Military Dark, Sandstone – $555 USD
Mens Fleece Sweatpant – Natural, Military Dark – $635 USD
Mens Velcro Pant – Natural, Military, Shade – $465 USD

FOOTWEAR
Mens Crepe Boot – Taupe – $620 USD