Nike 2015 Doernbecher Freestyle Collection
The Air Jordan 13, Air Max 90, Air Max 95 and more highlight this year's charitable release.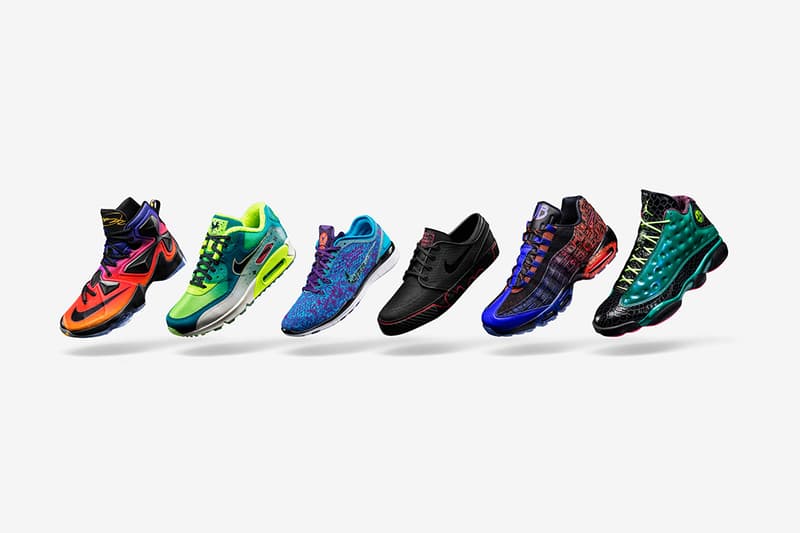 After joining the hospital's board back in 2004, Michael Doherty, Nike's Creative Director of Global Brand Presentations, was tasked with coming up with new ways to garner support for the Doernbecher Children's Hospital. Doherty's son Connor, a sneakerhead, suggested Nike partner with young patients to produce one-of-a-kind-kicks. Now, more than a decade later, the collaborative Freestyle Collection has raised over $11 million USD and helped expand the hospital's pioneering research, support clinical care, purchase state-of-the-art equipment and recruit new experts while subsidizing the cost of care for families in need.
Again one of the most hotly anticipated drops of the year, this season's Freestyle Collection includes a bevy of old school favorites and contemporary silhouettes alike — all customized by patients at the hospital.
Meet each of the kids and their creations below and look for the 2015 Doernbecher Freestyle Collection to debut November 21.
LIZZY OLIVAN, 11
Lizzy is a cheerful, funny girl with a beautiful smile and some serious tap dancing skills. When she's not on stage, she's jumping rope with her best friend — they've been known to reach 200 jumps without stopping — and hanging out with her family. One year ago, Lizzy was diagnosed with acute lymphoblastic leukemia, but that hasn't stopped her from pursuing her dream of becoming a professional dancer.

Throughout her cancer treatments, Lizzy has worked hard to stay positive. "It really makes a difference," she says. "Instead of being scared, I just try to think about all the good things in my life, like my awesome family or getting to design my own shoe."

For Lizzy, the best part about being a Freestyle designer was the chance to inspire other young patients and give back to the doctors she credits with saving her life. "They've all been super nice and supportive," she affirms. "I actually enjoy going to my appointments now because of all the wonderful people there."

Lizzy's shoe, the NIKE FREE 5.0 TR FIT 5, is a bold, bright testament to her strength that celebrates her life in the spotlight. On the back heel, a glow-in-the-dark dancer busts a move, while sparkly laces twinkle like Lizzy's many dance trophies. Take a second look at the Swoosh logo, and you'll catch Lizzy's name in block print. And in the fabric print, Lizzy's powerful motto shines: STAY STRONG. DANCE ON.

While Lizzy has a little over one year of treatment ahead, she feels ready to lace up her tap shoes. "I've been blessed with so much through this journey," she explains. "I have learned a lot and have a wonderful family and great little sister who have supported me all the time. It's also made me realize that even when things get tough, you can still find a way to dance and sparkle."

JOHN CHARLES, 11
John plays soccer, does gymnastics and wrestles. He can also raise one eyebrow. And, since his diagnosis of Crohn's disease, he's discovered that he can add "able to swallow seven pills at once" to his impressive list of talents.

Designing his signature AIR JORDAN XIII RETRO was a chance for John to share his unique skills with the world. His sneaker features his soccer number, a cartoon kid with a raised brow and those seven pills to represent the medicine he takes to manage the disease.

However, as his sneaker goes to show, John's life is much bigger than Crohn's. His twin brother, Jonah, makes an appearance on the sockliner, as does his beloved German shepherd, Teagan, and an Egyptian pyramid. "If I could travel anywhere in the world, that's where I'd want to go," John explains. Even his favorite foods get a shout-out: Look closely at the lace tips, and you'll see the words CHICKEN AND JO-JOS.

John hopes to become a professional soccer player when he grows up. Until then, he plans to cheer on the Portland Timbers and take each day as it comes. He says his family is one of his most vital sources of support and motivation, but his dad, Tony, insists it's the other way around. "John is such a strong kid, wise beyond his years," Tony says. "The way he just quietly deals with whatever is handed to him is really inspiring."

One of the most powerful features of John's sneaker is also the one that's hardest to spot. Flip the shoe over and you'll see the word "Crohn's" on the outsole. "When I'm walking, I want to literally stomp out the disease with every step," John declares. Right behind this statement, the words COURAGE, STRENGTH and FIGHT surround the midsole, backing John's every stride against his illness.

"I've come such a long way in the past year," says John. "It hasn't always been easy, but I just focus on the good stuff in life and that helps me stay happy. Throughout this experience, I've learned that you don't know how strong you are until strong is the only choice."

KIAN SAFHOLM, 11
As his family and friends can attest, Kian has a good nature, a killer sense of humor and courage to spare. Two years ago, Kian was put to the test when a staph infection spread through his body and entered his heart, requiring three surgeries. After months of recovery, with the support of everyone around him, Kian is back to doing what he loves: playing basketball and cheering on the Cleveland Cavaliers.

Kian's custom LEBRON XIII is a tribute to King James himself, who inspired Kian to remain courageous and keep up his fight.

Since Lebron is said to have the heart of a lion, Kian chose colors that represent sunrise on the savanna, where lions roam. Lebron's signature makes an appearance, as does a stylized lion logo.

Kian also added details from his own life. He created his own family crest, which can be seen on the sockliner, celebrating the things he values most: faith, family, perseverance and, of course, basketball.

You'll also find the words FOREVER GRATEFUL, which is Kian's family's motto. "Whenever we talk about my experience, my dad says he'll be forever grateful to the Doernbecher team for saving my life," explains Kian.

"This medical journey has taught me that it's possible to have a good ending to a bad beginning," he continues. "Even though I was really sick, my family and I never gave up fighting. With faith, love and a whole lot of perseverance, you can get through anything."

Kian already has big plans for the coming years; he wants to become a professional basketball player for — you guessed it — the Cleveland Cavs. "Maybe Lebron will be the coach by then," Kian says with a grin.

Kian's biggest wish for his Doernbecher Freestyle shoe would be to see them on the athlete they were created for. Plus, he is excited about all the good his sneaker will do for other young patients.

"There's a lot of kids fighting at Doernbecher right now and they need all the help they can get," he declares. "Being able to do something for them makes me feel really good inside."

EMORY MAUGHAN, 10
"When I was a little girl, I always dreamed of being able to fly just like Peter Pan," says Emory. "Now, I dream of having a kidney that works. I just have to stay positive and wait for that day to come. If you dream hard enough, anything is possible."

Diagnosed with Stage IV kidney failure, Emory has a long road ahead of her. But with the whimsical image of Sasquatch riding a unicorn, a star feature of her custom AIR MAX 90 PREMIUM, Emory is here to show that anything is possible when you believe.

"A long time ago when people had kidney disease, they said that survival wasn't possible. Now it is," she says. "Before I came along, Sasquatch riding a unicorn didn't exist. Now it does."

On the body of her sneaker, Emory took the word IMPOSSIBLE and added a strategically placed apostrophe to create I'M POSSIBLE. The sockliner is the place for the stuff she loves best: It features the names of her family members and tropical palm trees.

Emory added the reflective shoelaces especially for her father, who has also dealt with kidney issues. "My dad helped me so much, so I wanted to do something just for him," she says. "He loves reflective things, so that's my little thank-you note to him."

When Emory isn't designing cool shoes, you'll find her with her nose in a book. She loves to read so much that she plans to become a librarian when she grows up and says she often turns to her favorite authors for inspiration.

"On rough days, I think of this quote from [J.R.R.] Tolkien: 'If more of us valued cheer and song…it would be a merrier world.'" With her beautifully bright and cheerful shoe, Emory is helping to make the world a merrier place.

JACOB BURRIS, 14
On the outside, Jacob looks like any other 14-year-old. He plays baseball, practices the drums and loves to play with his pet hamster, Jamal. But on the inside, a Dacron tube holds Jacob's aorta together in order to keep his heart pumping strong. This treatment for his rare heart condition, coarctation (a disconnect of the aorta), has earned Jacob the nickname: The Bionic Boy, from his family. It has also inspired him to raise awareness about heart health.

"High blood pressure was the only symptom I had and if it had gone undetected I could have died," Jacob explains. "That's why I want everyone to get their blood pressure checked."

Jacob has turned his AIR MAX 95 PREMIUM into a public service announcement of the most creative kind. The tongue reminds you to CHECK YOUR BP," accompanied by a heart made out of Jacob's thumbprint. "I was thinking that it could help a lot of people," he says.

Other cool features in Jacob's design include a circuit-board pattern (since he's bionic, after all), a heart graphic under the heel and a proclamation: I WALK TO MY OWN BEAT on the sockliner. As for the red and blue palette, that's a nod to Jacob's favorite superhero: Spider-Man.

"Spider-Man does the right thing, no matter what. I think that's super awesome," Jacob says. And Jacob's not the only one who thinks so: Spider-Man's creator, Stan Lee, has lent his signature to Jacob's shoe. After the two met at a comic book convention, Jacob asked the legendary comic book writer if he would lend his name to a good cause and Lee was happy to oblige.

After his first experience as a designer, working with a team to create his custom shoe, Jacob says he'd like to try his hand at designing video games — especially the kind where you choose your own storyline. "I like games that keep going, where you can achieve your own goals," he says.

"I walk to my own beat and so does my heart," Jacob confirms. "During a routine checkup, I learned that I needed to have heart surgery to repair my aorta. It wasn't easy, but when the going gets rough you just have to look forward and be true to who you are. Just be you. Just be amazing."

ISAIAH NEUMAYER-GRUBB, 8
When Isaiah was diagnosed with a brain lesion at seven years old, his parents wanted to break the news to him gently. "We called it a 'brain freckle,' and told him that we'd heard Batman, Isaiah's hero, has the same condition," says his mom, Melissa. "We said it was great, because it would allow him to be brave and strong just like Batman."

"Batman is my hero, and so is my family," says Isaiah. "They taught me that I can do anything if I just believe. I was really scared to have surgery, but I have a bunch of people supporting me and I trust my doctors."

With the surgery behind him, Isaiah now spends his days playing video games, perfecting his break-dancing moves and, of course, designing one-of-a-kind kicks.

At first glance, Isaiah's NIKE ZOOM STEFAN JANOWSKI has a basic black silhouette, but when light hits it, the bat signal — Isaiah's emblem of bravery — appears from the shadows. Isaiah's name appears loud and proud on the midsole, accompanied by his favorite power words: FIGHTER, FREEDOM, and BELIEVE.

Isaiah says it's been an honor to design a shoe for OHSU Doernbecher and hopes people love it as much as he does. "It's gonna help other kids with brain freckles," he explains. "I made it as cool as possible so that a lot of people will buy it."

As for what Isaiah plans to do next? No surprises there: His ambitions are nothing less than super. "I want to be Batman because I want to save people who need help," he says. "If I was a superhero, I would give love to everyone in the world."