The Top 9 Footwear Brands to Watch in 2015
The sneaker is just as much a staple in urban culture as street art or music. From the budding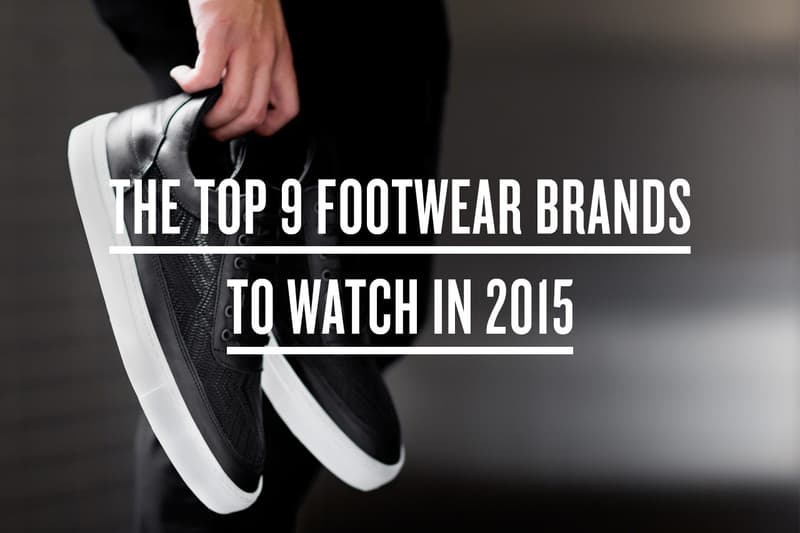 The sneaker is just as much a staple in urban culture as street art or music. From the budding decades of the '70s and '80s, it proved to be the most visual and rather unique form of self-expression for our cities' youth. Just as these major metropolises are a hotbed for fashion innovation, the sneaker is often a gateway to exploring this vast art form, while it continues to remain the key element to all outfits. Just ask any style-driven gent what article of clothing regularly dictates their daily threads, and I'd bet more often than not you'll hear the word footwear.
With 2015 in full swing, friendly debates about 'who will create the biggest splash in footwear over the next 12 months?' have been swirling within our culture, as well as our office, for weeks if not months now. While names like adidas and Nike immediately come to mind for most, our sights are on the brands doing it big on a much smaller scale. In examining the past year and the direction of the industry, we've compiled a list of eight sneaker brands you should keep a close eye on in 2015. Be sure to also check out the rest of our 2015 predictions at The HYPEBEAST Watchlist.
---
From the minds of John Buscemi and Ryan Babenzien, GREATS is shaping the footwear industry one model at a time. Inspired by the likes of Warby Parker and Everlane, the Brooklyn-based brand chose to sell its stylishly refined, quality-driven silhouettes directly to its consumers, thus allowing for cheaper price tags and shorter delivery times. Essentially, the duo brings "the best, for the most, for the least." Now entering its third year in business, GREATS is surely destined for a productive 2015 after securing a large investment last spring. And with the young and talented Salehe Bembury (previously of Cole Haan) leading the design team, we're certain the versatile silhouettes will continue to flood the blogosphere with new release after release.
Pricing starts at $49 USD
www.greats.com
---
Japanese brands are known within the fashion world for their ability to reimagine archetypal and heritage-based designs with superior precision in both construction and material. Although typically seen in the realm of clothing and luggage, Hender Scheme is a progressive footwear brand in Tokyo that has built a reputation for its "Homage" series — a collection in which cherished sneakers such as the Nike Air Force 1, Air Jordan 4, Vans Era, adidas Superstar and more are reimagined by hand with a full premium leather construction. Although having received mixed reviews for its unoriginality, we're excited to see what Hender Scheme and its founder Ryo Kashiwazaki have in store for 2015 as the brand pushes forward with some original designs.
Pricing starts at $600 USD
www.henderscheme.com
---
Athletic Propulsion Labs, better known as APL, developed a name for itself a few years ago after developing an affordable technology that was guaranteed to add inches to your vertical jump, and subsequently banned from the NBA. The poster-child of "any publicity is good publicity," the Los Angeles-based brand turned its banishment into a cheap, yet one-of-a-kind marketing tool to drive sales around the globe. While the NBA's acknowledgement introduced the brand, 2014 saw APL expand its product lineup significantly, entering the worlds of performance and casual footwear, of which includes the Vision Low, Churchill and TechLoom Pro.
Pricing starts at $120 USD
www.athleticpropulsionlabs.com
---
article number snuck onto our list having just premiered its inaugural spring collection in December. Its blend of performance and luxury-based designs with minimalist stylings proves to be very much on par with the current movements in men's fashion. Best of all, its use of neoprene sockliners, Nappa leathers and thick rubber soles offers superior comfort to complement each model's appealing aesthetic. After a successful showing at Liberty Fairs, you can expect to see article number at some of the finest retailers in the world, including Barneys New York, Kith, colette, BEAMS International Gallery, Harvey Nichols, Offspring at Selfridges and more. Not so bad for a brand that launched seemingly out of nowhere.
Pricing starts at $250 USD
www.article-number.com
---
Entrepreneur and designer Jon Buscemi appears on our list for the second time with his high-end eponymous sneaker brand, Buscemi. Releasing its first model during the latter half of 2013, Buscemi has built a reputation for authenticity and the alluring mixture of street and luxury. Having produced a nominal collection of three silhouettes for men and a long list of collaborative releases within the past 15 months, the budding brand has rightfully caught the attention of many, from Sean "P. Diddy" Combs to The Wall Street Journal. The last we've heard from Buscemi was that it was working on a collaborative release with fellow designer Ronnie Fieg, in yet another move to increase its brand recognition – as if it needs any help.
Pricing starts at $740 USD
www.jonbuscemi.com
---
At six years young, Filling Pieces is one of the more, shall we say, 'experienced' footwear brands to appear on our list. It has little to do with its product range and more to do with the change in climate. You see, Founder Guillaume Philibert understood the need for a sneaker that could bridge the gap between streetwear and high-end fashion at an affordable cost. As more and more of today's youth and sneaker lovers alike demand this marriage of high and low, we've noticed an increase in visibility for the Amsterdam-based brand. With a growing product range to match its equally rising fan base, 2015 will surely be a year in which Filling Pieces solidifies itself within the industry.
Pricing starts at $210 USD
www.fillingpieces.com
---
From the mind of veteran sneaker designer David Raysse, BRANDBLACK is flipping the "lifestyle" brand aesthetic on its head by bridging that very business model with performance-driven basketball sneakers. At its core is performance; meticulously designed and tested sneakers made from premium materials to heighten its wearer's game on the court. However, today's youth – more than ever – are also more concerned with appearance, both on and off the court, and rarely do you find a brand that's able to deliver both without compromising the other. In 2014, BRANDBLACK surprised the industry with the release of its very wearable first signature sneaker for star guard Jamal Crawford, in addition to a collection of stylish sportswear. On the heels of its newest signature model with Crawford, we're anxious to see how the brand was able to outdo its inaugural release.
Pricing starts at $100 USD
www.brandblack.com
---
After hitting a bit of a static patch shortly after its launch, 2013 saw Native Shoes' newly appointed CEO hand over the reins of creative director to the brand's OG designer, Mark Gainor, with hopes of returning Native to its innovative beginnings. Within no time, Gainor designed the now popular Apollo slip-on, unveiling it to the world of streetwear at Agenda Long Beach in the summer of 2014. Aligning with partners such as the creative firm The Madbury Club to help aim his sights on this world of style-fixated youth, we're assuming Gainor and company have plenty more to revel in the coming months.
Pricing starts at $45 USD
www.nativeshoes.com
---
Now entering its fourth year in business, ETQ Amsterdam is a footwear brand that focuses on sophisticated aesthetics and premium constructions. Its motto is to approach its production process just as an experienced tailor would when crafting a suit. The result is an array of subtly-styled footwear with an anatomically-shaped leather insole and premium leather uppers hand-stitched onto a vulcanized outsole. In 2014, ETQ crept onto our digital pages and eventually into our webstore, where we only have but a few sizes left. Backed by plenty of anticipation, ETQ Amsterdam recently took to the global trade show circuit to begin unveiling its 2015 models. From the teaser images on its Facebook page, it's right on par for another year of growth.
Pricing starts at $200 USD
www.etq-amsterdam.com