James Jarvis Discusses the End of AMOS, Skateboarding and Toy Design
The man who stood behind the vinyl toy craze of the early noughties, James Jarvis and his AMOS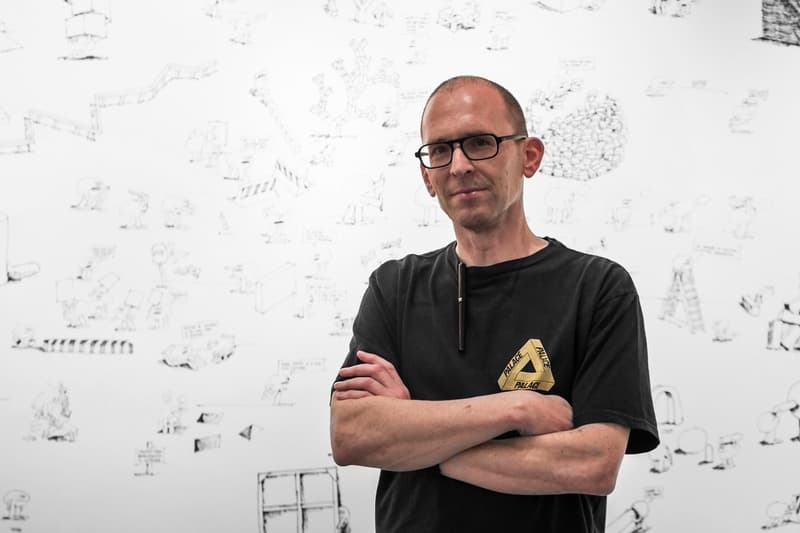 1 of 7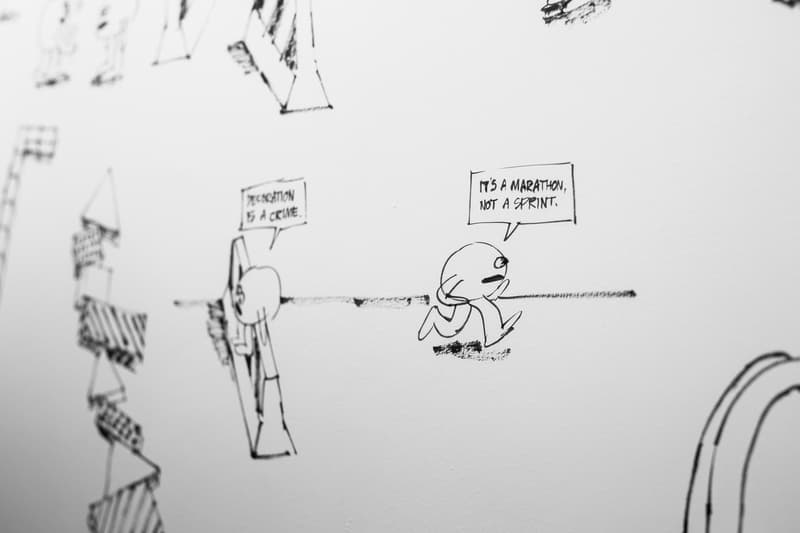 2 of 7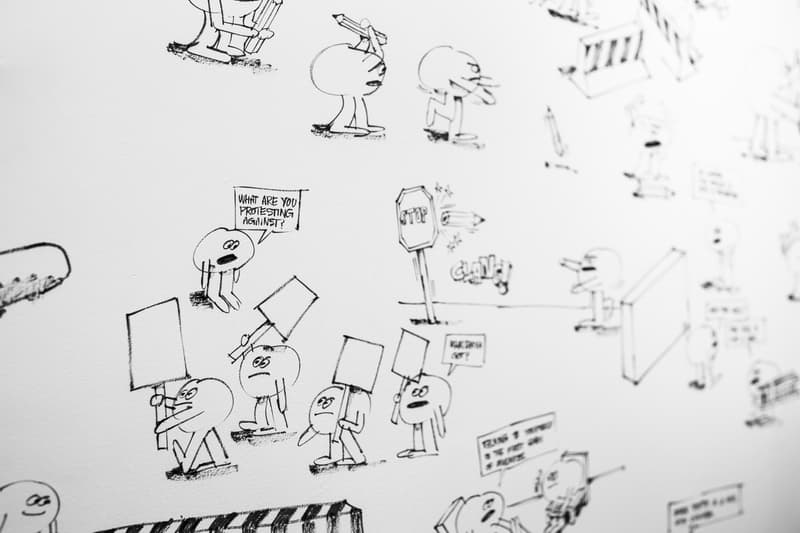 3 of 7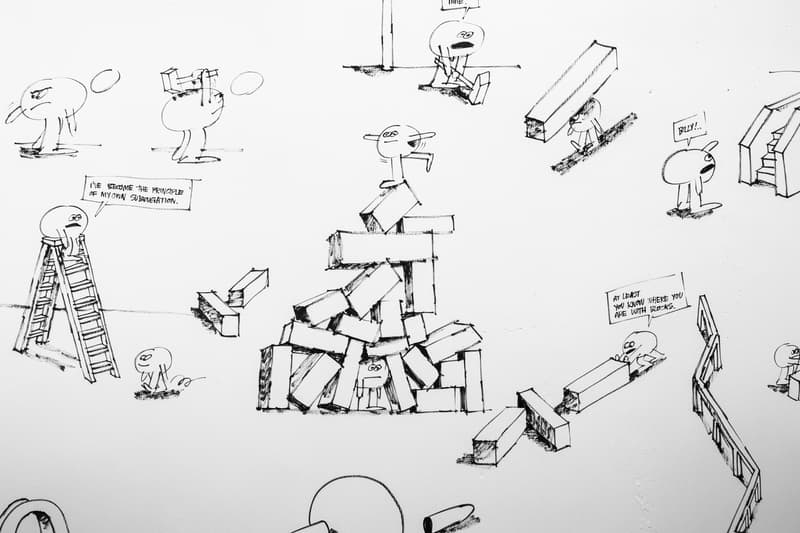 4 of 7
5 of 7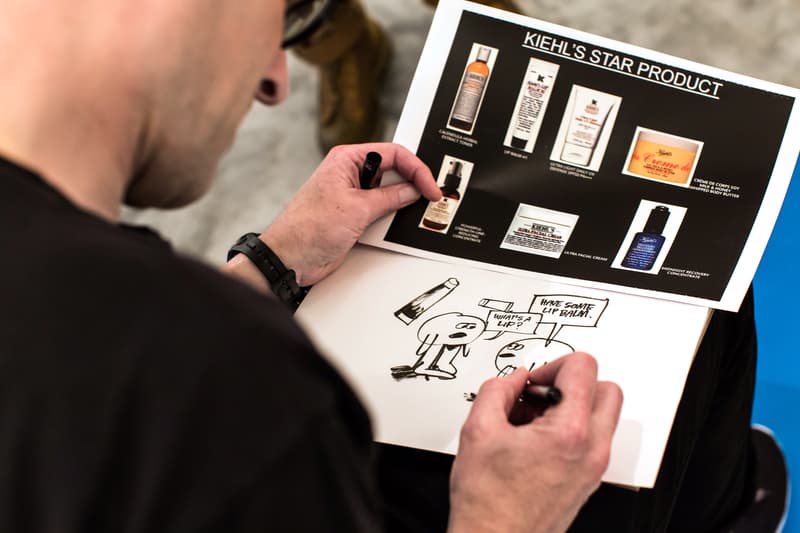 6 of 7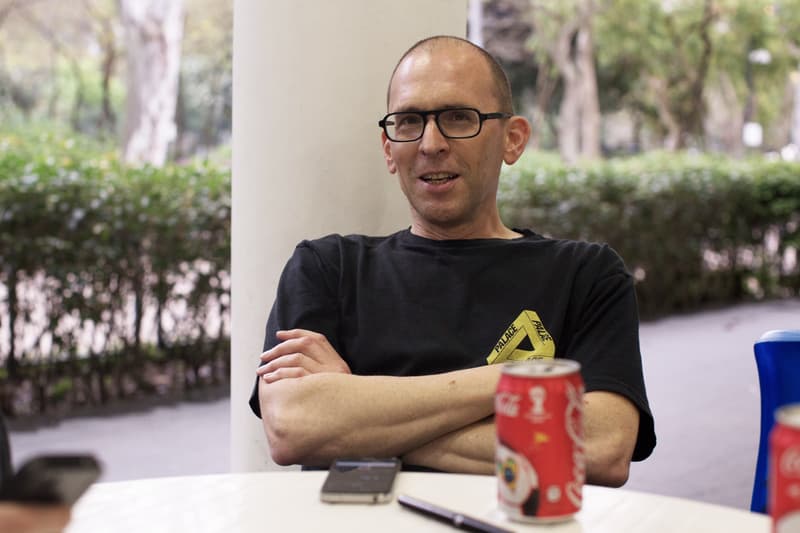 7 of 7
The man who stood behind the vinyl toy craze of the early noughties, James Jarvis and his AMOS label — founded alongside partner Russell Waterman — rounded out its 10 years tenure in 2012. Starting with the iconic "Martin" figure in 1998, Jarvis went on to release over 100 character toys. Aside from a slew of limited collectibles — which included the celebrated In-Crowd collection — AMOS published books and comics, designed a mini-golf course, and curated a music festival dubbed In Between Days. Outside of AMOS, Jarvis maintained projects with the likes of Stussy, Converse, Coca-Cola, MTV and Nike. Most recently he led an "Art Marathon" charity event in Hong Kong sponsored by Kiehl's for Green Power.
We met him at the pop-up to learn about recent projects such as Spherica Dialogues. The conversation extended beyond expectations to his philosophy on skateboarding, London's skate scene in the '90s — with retrospective accounts of Slam City Skates — while also revisiting motifs in his architecture-inspired exhibition "Objects in Space." Despite such success, Jarvis remains humble in his aesthetics, admitting: "I didn't have a defined method in my early work." While this may make him sound inept, the candidness in approach and personality make his work reign above all the imitations that have come after him.
---
Life After AMOS
"Everything we did was creative and had a reason. It wasn't purely money-driven, so we stopped AMOS while it still had a good legacy."
Several years ago, you seemed to have more projects on your plate with more releases. Now things have slowed: what have you been up to?
Without sounding too corporate, we're currently restructuring. We stopped AMOS because we had done so many toys and had accomplished all our goals under the AMOS label. Russell and I saw AMOS as an art project, even though it was a commercial business. We organized a music festival, made a crazy golf hole, released some books, and made a lot of vinyl toys. If we had continued with AMOS, we would have just been churning out merchandise without much purpose, and neither of us wanted to do that. Everything we did was creative and had a reason. It wasn't purely money-driven, so we stopped AMOS while it still had a good legacy.
What was life like after the closing of AMOS?
We wrapped up AMOS in 2012. In 2013, I did a few odd jobs and was shaking off the idea of having to churn out graphics and toys so that I could experiment and draw as I pleased. I'm 43 and not getting younger, yet still associated with youth and street culture. I'm a father of two. I take my kids to school, work and that's it. Although I love the culture, I'm no longer a part of it; so I wanted to guide my work to a place where my mind's currently at.
While we were closing AMOS in 2012, I started a project called Spheric Dialogues in which I drew a philosophy comic strip every day. I published it on my blog, and didn't think of it as a profit outlet. I did it for the discipline and the process of thinking with philosophy.
What did Spheric Dialogues touch on that AMOS didn't?
While AMOS toys were viewed as consumable object, Spheric Dialogues gave me ideas to do something more intellectual. I don't think people paid much attention to the meaning behind AMOS toys; but making a comic strip with no product base demanded more thought. I have just published Coloring Book with Nieves, and showed some of the illustrations at colette in January. Spheric Dialogue is a reaction to what I didn't want to do after AMOS.
Was Spheric Dialogue a way for you to say you're over what you did at AMOS?
No, not at all. AMOS was a collaborative project and Spheric Dialogue didn't fit the AMOS identity. It was a new project in which I was able to indulge myself.
Given that the whole creative world has taken an interesting turn through a full-blown Internet movement through social media, how have you seen its creation and consumption change?
Last year I got into Instagram. I joined it as a way to share my ideas and drawings without the consumer having to make purchases. It allows me to share ideas and cement relationships with an audience.
---
Early Inspirations and Designs:
"To be honest I didn't know what I was doing, and I think that gave my work a charm. If you know what you're doing, an authenticity is lost."
Raised on a diet of Richard Scarry, Hergé and Judge Dredd, can you share with us your early feelings about caricatures?
Those are the kind of influences I end up talking about to resonate with people. What you discover between the ages of 9 and 21 are the things that stay with you even if you get into other interests. They are the most formative influences. I love Judge Dredd and the vision of the artist and writer behind the comic. You can see threads from the comic my work — for example, a policeman with features like Judge Dredd.
But for the most part, those are the artists that got me hype on drawing. Simply put, these were the type of characters I looked at and thought "that's the absolute shit!" I wanted to draw like those guys. I studied them and obsessed over their work before discovering other artists like Gary Panter and Philip Gusten.
When you designed the toy figure "Martin" for Silas in 1998, did you expect that it would lead to the phenomenon of vinyl toy collecting?
I didn't make a toy for an alternative motive. When we started, no one was doing this type of toy. BOUNTY HUNTER had one silicon toy, and they offered to collaborate and I went for it.
Why do you think it was so impactful?
I have no idea. I suppose I had a particular vision and style that stood out. With a lot of those early toys, I didn't have a defined method or style. I was learning as I went along — turning drawings into toys. By the time I got to AMOS, I had solidified my approach. My first Silas toys were quite clunky with a weird geometry, such as Tattoo Me Keith which ended up being a trend. To be honest I didn't know what I was doing, and I think that gave my work a charm. If you know what you're doing, an authenticity is lost.
What I love doing is just drawing "stuff." But you can't make a living just drawing stuff, so you have to find profitable projects in which you can use your craft. When I teach in college, I tell my students to be adaptable. It's going to be hard making a living out of doing what you prefer, so if any opportunities come up make the most of it. For example, I've never designed a crazy golf hole before, but when the chance came up for me to do it for AMOS, I simply went for it with what I already knew. The same was true when organizing the music festival. You tackle the project from your angle.
Having worked alongside a slew of brands, do you ever feel like you lose your artistic direction in these projects?
In my mind, my commissioned work is just an extension of my art portfolio. For example, my project here for Kiehls in Hong Kong draws from my own iconography, so I'm building on my own work even if it's on a slightly different format. Similarly, when I'm doing an indent for MTV, I design and create the piece as I would with or without the MTV logo.
---
Slam City Skates
"I like the idea that one has to dig to discover meaning."
You've previously mentioned that Slam City Skates were among the first to give you work. What were your first jobs like?
When I first got out of college, I did adverts for Slam City Skates, catalogs for homes, then catalogs for Silas which led to a toy design. You start to realize that your drawings are in fact raw materials for making T-shirts, animations for a running campaign, etc. I've always had to find a way to draw to make money. Slam City Skates can't officially be called my employer because they never paid me (laughs). They paid me with the first DC's that first came out — a pair of purple Stereo Jams. This was back in the early '90s when DC Shoes was cool, not the mega corporation it is now.
While heavily inspired by skateboarding, your work isn't immediately "skate art." What do you think of the way that term is used?
I'm skeptical on the phrase "skate art" along with self-conscious street art. It's either good or it's bad. For example, it's demeaning to say Barry McGee makes street art. He just makes art. I also dislike being called an "Illustrator." I see myself as an artist or a graphic artist, with the spirit of skateboarding within my aesthetics.
How would you say the spirit of skateboarding is prevalent in your work?
Sometimes I make reference to skateboarding, but I do it subtly. Once I drew a guy freaking out with a pencil. His freak out is the same as Jason Dill's in a Supreme video, but he's doing it with a pencil. While at first glance it might just look like a guy's freaking out with a pencil, yet if you're into skateboarding you'll understand he's throwing it at the stop sign similar to the way Dill did in the video.
Why are you drawn to subtlety and unassuming motifs in your approach?
I like the idea that one has to dig to discover meaning. This way, you cherish the content more. This is heavily built on how esoteric skateboarding was when I was growing up. When I discovered Thrasher Magazine at 12, I found this world inside a magazine that seemed like the most amazing place. You really had to dig to find Thrasher then because it wasn't distributed in the UK. Back then, you had to pick up the courage to go into somewhere like Slam City Skates where you were surrounded by all these intimating elders who knew their shit. It gave the whole culture a real value because you had to put in work. It wasn't as disposable as it is now. I suppose I sound old when I say "kids get it too easy these days."
---
The Spirit of Skateboarding
"I don't see skateboarding as a sport. I see it as a philosophy, as a way
to look at the world. I love the way skateboarders look
at architecture."
What is it about skateboarding that's kept you inspired throughout your creative tenure?
I don't see skateboarding as a sport. I see it as a philosophy, as a way to look at the world. I love the way skateboarders look at architecture. Beyond the tricks they do, I love how skateboarders tackle space.
So when I exhibited "Objects in Space" in London. I wanted a show about skateboarding yet I didn't want there to be any skateboarders in the art. Hence, I drew characters manipulating objects in skate spots to provide a metaphor. My degree show at the University of Brighton in 1993 was just drawings of car parks and skate-friendly spaces, prior to my Masters at Royal College London. I wouldn't have been able to get into the Royal College as a cartoonist. I wanted to show that I could draw properly, so I made drawings of architecture which I then published as a zine. I was looking back at this zine I did when I was 21 and thought these were brilliant because there was a weird presence to the vacant structures.
After the end of AMOS, I revisited the themes behind "Objects in Space" to further understand my art at a time before I started making money.
For the closing of AMOS, why did you choose to round up the legacy with the Generic Character?
Around about the time I unveiled the Generic Character I was really intrigued by work from Sol Lewitt. He's a conceptual minimalist artist who worked mainly in the '70s. A lot of his work looks to the mechanism of art making, following steps to how art gets made. AMOS releases were slowly getting reduced and simplified. From punk and pop culture references to more subdue characters, and at the end there's a character that's not really a character anymore. Just a head on legs. This simple character could be seen as a template manikin, suggesting that AMOS had gone full circle – back to basics.
I like the fact that anyone can draw the Generic Character. I did a character that wasn't complicated or overly clever, because then you focus on what the character's doing instead of being distracted.