Gareth Pugh, Jeremy Scott and More Put Jeff Koons on the Hot Seat
It is safe to say that American contemporary artist Jeff Koons' name is now synonymous with his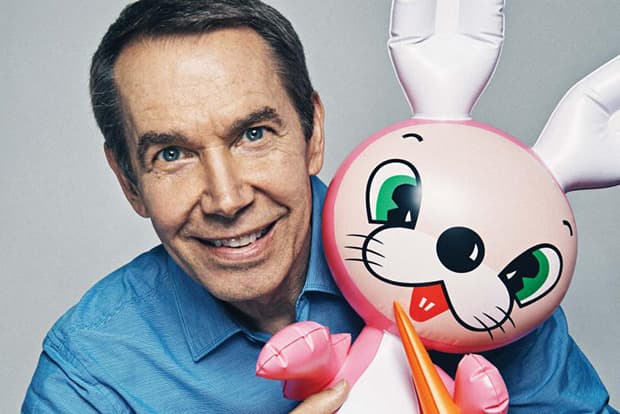 It is safe to say that American contemporary artist Jeff Koons' name is now synonymous with his trademark medium of metallic balloons shaped into a panoply of figures, the most famous of which being his balloon dogs. It therefore comes as no surprise that his highly unique visual language of positivity and self-reflection has influenced some of the creative greats of our time. i-D Magazine recently invited four of these creatives, namely fashion designers Gareth Pugh, Walter van Beirendonck, Bernhard Willhelm and Jeremy Scott, to field some of their own question towards Koons, covering topics such as the origin of Koons' fascination with balloons, hair extensions, cannonballs, and a dueling match between Duchamp and Warhol. Read the excerpt below and head over to i-D for the full piece.
Gareth Pugh: Where did your obsession with balloons come from?

Probably from a child and from vacuum cleaners. I remember coming across these machines that were powerful and anthropomorphic. I like balloons because they're like people. You inflate them and they're like us in breathing, but in complete reversal because there's a density inside us and in a balloon it's just emptiness and air. The density's on the outside.

Walter van Bierendonck: What's been your favourite artwork by another artist?

I really enjoy the whole vocabulary of art, so if I had to choose one I would say the Venus Of Willendorf (a stone statuette dating back to 1908), because it references history, there is a sense of mystery. If you think of a string of popcorn, with each artist being part of that string, I would say the Venus Of Willendorf is like the big bang.

Jeremy Scott: Do you fantasize about Paris Hilton? What is your view on celebrity culture?

I don't really fantasize about Paris at all. I find celebrity culture amazing. It shows our weaknesses. If something is repeated or displayed automatically it takes on a sense of significance, whether or not it has any significance in our life or not. But just through that repetition it takes on significance.