From High Fashion to Video Games: Giles Deacon for Luigi's Mansion II
With the recent release of Luigi's Mansion II on Nintendo 3DS and 3DS XL, one of gaming's favorite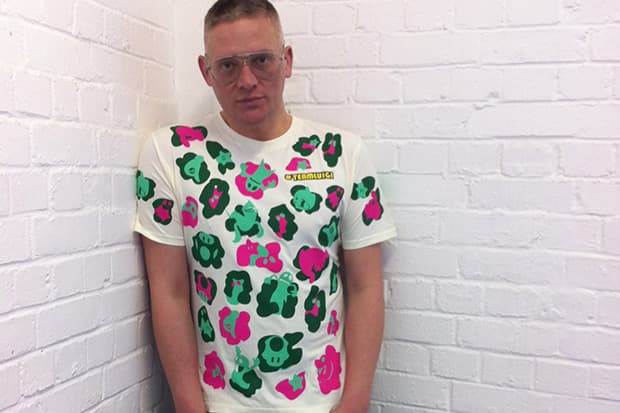 With the recent release of Luigi's Mansion II on Nintendo 3DS and 3DS XL, one of gaming's favorite sidekicks made a welcome return to the spotlight. And it wasn't just the video game world that was excited about Luigi's moment of fame. To commemorate the occasion, renowned British designer Giles Deacon created a limited edition T-shirt inspired by Mario's famous 'younger brother.' Available in two color schemes, the T-shirt fuses the designer's signature look with the colorful and distinctive visuals of the video game. "I have always been a huge computer game fan so I was delighted to design this Luigi's Mansion 2 T-shirt," Deacon explains. "I was inspired by elements of my past collections and combined these with the exciting graphic sensibilities associated with Luigi." We recently chatted with the designer about the draw of gaming, its intersection with fashion world and the democratic movement of collaborations.
Read the interview below and keep your eyes peeled for #TeamLuigi on the Nintendo UK Twitter page as details emerge of how you can win your own limited edition Luigi's Mansion 2 T-shirt.
As a fan of video games, what was your initial draw to it all and what has maintained your interest?
I was totally enthralled in the animation and creation of worlds in video games and this fundamentally has maintained my interest ever since; weirdly the playability has always been important but secondary.
How do you think the video game world has changed popular culture?
Video games have been a huge influence on so many artists/designers and musicians.
How does your high fashion background translate into this sort of medium?
My design influences have always been very broad and diverse Japanese manga/1970s sitcoms/personal illustration, etc. I like to play with all these elements and to hopefully create something unique, personal and relevant in a overall design perspective, not just in a high fashion one.
What's the overall premise behind your design?
I wanted to do a T-shirt that was super bold and graphic and contained my favorite characters from the game – an image that was simple yet worked in an intuitive way.
How do you go about conceptualizing the design?
Illustration for me is the quickest and most effective way for me to communicate volumes, construction and shape to the team I work with – to give them this information in a creative format rather than just pure technical makes for a much more interesting end product.
Traditionally, the world of fashion and video games never truly had a meaningful intersection, but this changes it. What are your thoughts, are they that far disconnected?
A few designers have successfully merged fashion and video games – Jeremy Scott, Walter Van Beirendonck, Jean-Charles de Castelbajac and Stephen Sprouse. I am really happy to add this with a clashing of worlds and reference points.
High fashion has seemingly fully embraced the notion of collaborations with more democratic formats such as both fast fashion and in this case, the T-shirt. This is however something you've been in tune with for some time. What does this mean in terms of the shift in fashion towards democratizing luxury?
I believe in democracy of design and I think it's really important and relevant to make interesting, well-thought out product at various price points. I like equally the work done on a £50,000 pound dress and on a T-shirt I have done for Nintendo.