HYPEBEAST Trade: Greg Selkoe - CEO/Founder of Karmaloop.com and Karmaloop TV
In a short few years, Karmaloop has effectively redefined the landscape for both retail and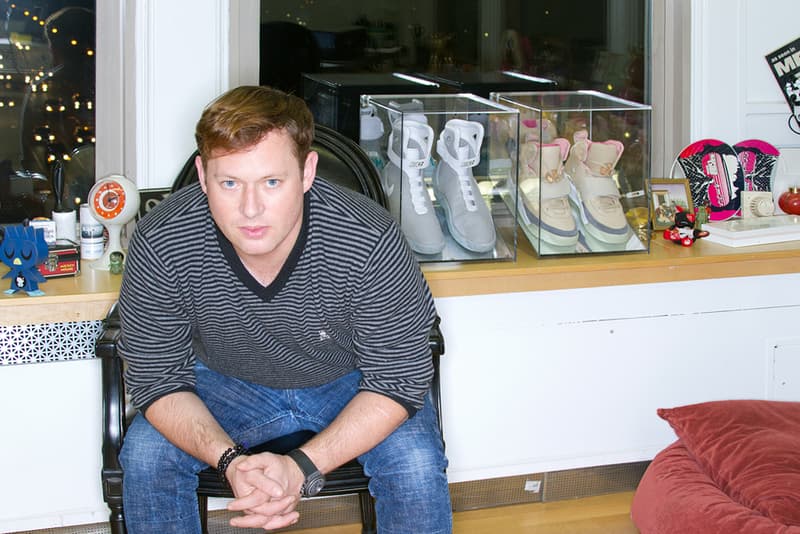 In a short few years, Karmaloop has effectively redefined the landscape for both retail and culture. For better or worse, Karmaloop has often been a prickly subject as they've essentially cornered the market and risen significantly above the rest to represent streetwear's largest and most powerful retailer. Partnering with Pharrell Williams, the announcing of a full-fledged Karmaloop TV was seen as a further move to help diversify their portfolio. Despite an overall negative outlook on both American and global markets, Karmaloop still managed a highly respecatble 81% in growth on the back of $130 million in revenue for 2011. With so many avenues to explore, Karmaloop looks to continue its juggernaut movement as we spoke with founder Greg Selkoe on Karmaloop's current business.
What's the current workforce/company structure like at Karmaloop?
It is about 180 employees between our Boston and New York offices, and we have another 250 in our warehouse in Ohio. The company has separate departments like tech, marketing… but we have a really "flat" organization, meaning that everyone has a lot of freedom to do what they need to do, as long as they get the job done. We are not a very hierarchical organization where there are a lot of different levels, we're all just one big team. We encourage people to be creative and try new things. We like crazy thinkers and people who don't give a fuck what people think and are willing to throw out how they feel and express themselves. People who work at Karmaloop are expected to bust their ass but have fun doing it. The New York office has the Karmaloop TV media team, although we're starting to build out a big studio in our Boston headquarters as well, and the Private Labels (clothing brands) division is based in New York. Boston is where all of the e-commerce operations are.
In difficult economic times especially in the U.S., what do you attribute your growth to?
Like anything, there are many factors why we continue to grow and be successful. We had an incredible year in 2011, where we grew by 81%. I think a lot of the reason why we've been successful is that we try to just be honest and clear about who we are. We love the culture but we don't take ourselves so seriously. We work our asses off trying to innovate and bring the freshest brands to our audience around the planet. I think we listen to people and we are quick to admit when we fuck up. Everyone in the company truly loves the culture and the clothing, and I would like to think that our employees love working at Karmaloop and that it shows through in everything we do. I think that has helped drive us and continue our success.
What are plans for international expansion or will you continue to focus on the United States for the foreseeable future?
We definitely won't lose focus on the United States and Canada. But we are making a big push in Europe. We just acquired the website Street Ammo, which will eventually become Karmaloop Europe. The dude Mark [Urban] who runs the website is a real cool cat and the philosophy and brands that Street Ammo carries fits exactly with Karmaloop, so it's a natural partnership. We have a few other plans up our sleeves but we're not ready to announce them yet.
Karmaloop champions the idea of "verge culture," can you describe this and how it influences your business?
Before I answer the question I should describe what I see verge culture to be, so that those who may not have heard the term understand what we're talking about. The term verge culture was originally coined by the guys over at Frank151… big ups Malbons! Basically it describes the first generation to grow up on the internet – a cut-and-paste culture that is always leading, never following. Verge culture fuses together many cultures and refuses to be defined by old labels. They take many disparate ideas, change and improve upon them, and make them their own. The group is multiracial, multiethnic and they define themselves first by ideas and are not limited by labels. Verge has a dual meaning – verge as in the convergence of many ideas and cultures, and verge as in being on the cutting edge. If you came through the Karmaloop office I don't think you could find a more diverse and more creative group of people in many other places. Verge culture influences everything we do because almost everyone who works at the company is native to verge culture.
One thing that you've always been very transparent about was having people contact you. How scalable is the idea of having your phone/email/Twitter all listed? Will this invite be open forever?
I sure as hell hope so, because I always promised, from the time I started the business in my parents' basement, that I would remain accessible. I always hated it when I called airlines or companies or whatever and they just pass the buck and give you the runaround. I know that we're not perfect and certainly a few people have had bad experiences with our site… but generally we get really good marks for customer service and I want people to know that they can call me to discuss anything. I want to be able to get ideas and I want to be approachable, so yeah I mean I hope it is forever! I intended it to be as it is. And look, it takes a while sometimes but I always get back to people. It is central to the business that I give a fuck, I need to make sure that people can get at me.
There have been several notable platforms combining editorial with retail, do you view them as a threat or are their demographics different from the Karmaloop demographic? Is the Boylston Trading Co. Karmaloop's initial answer to those competitors?
In terms of combining editorial with retail or content with retail I believe it is the future. Certainly Boylston Trading Co., which is a higher-end, more premium men's site featuring more boutique labels and collabs, is an example of a real hybrid of editorial and retail. That being said, it's not practical to do the same thing that we do at Boylston Trading Co. on Karmaloop.com because just the SKU size is so totally different. But Karmaloop will be integrating even more video and editorial into the site this year, and the Karmaloop Men's and Ladies' Blogs are great and always worth checking out.
Analytics on the internet are obviously of the utmost importance, what sort of measures do you pay special attention to?
We look at traffic, obviously, sales numbers, conversion, etc. To be honest, we really need to get better at this and we have a big push right now to understand our data better. Our skill-sets really have been more in the culture and the creative side of things, not as much on the numbers. But we are getting better at it!
What methods have you used to utilize social media to drive sales?
We use it all, but obviously our Karmaloop Rep program is front and center. It's our most successful social network strategy, we have over 100,000 Reps in the program around the world and they are killing it. They're our biggest team out there on Twitter, on Facebook, you know, representing Karmaloop.
A contentious issue among streetwear has often revolved around "supporting your locals," how do you view these arguments as more brick&mortar stores close down?
Yeah, I mean, this is a tough one. I am definitely someone who wants to support local shops as well, and I think that there is always going to be a place for boutiques and local businesses. I think some of why local shops are shutting down is not just because of the success of the internet – although that has been a big factor – but it has also been about other things. One is that the economy's been terrible, so that has hurt everyone. We've been fortunate enough because we're doing some things right, but a lot of internet sites haven't done that well in the last few years. We've been sort of the exception in some ways, but I think that the other thing is that with the boutiques, the people who set them up, a lot of them didn't know anything about business and they focus on just being exclusive to the detriment of actually selling things and running a business. When that happens you can't stay in business forever. But in Boston, for instance, there are still a number of independent stores that have been weathering the storm and doing well – places like Concepts, Bodega, Laced, AWOL, and this new American-made goods store called Ball and Buck. So, I mean, street retail will always be around, there is definitely a place for it, but it is harder and only the best survive. Going shopping is a social thing and what would cities be without stores?
Who do you feel are Karmaloop's closest competitors?
Honestly I'm not sure I feel we are so different than most of the online retail out there.
How do you view the effectiveness of the Kazbah and what are the goals of the brands placed into that segment?
For Kazbah this year we're going to be spinning it off much more into its own independent site, although still have the products for sale on Karmaloop.com. But I feel like it's like the farm team, it is for testing brands, it is a great way to find ill up-and-coming brands.
How do you hope to leverage and turn your newly-minted TV channel into an important revenue driver of the business?
I think it is brand building and the media strategy, whether it's cable, IPTV (Internet Protocol Television), or online, it's an important part of who we are. Visibility and good content will always be a driver of revenue, even if it's not directly. I think people respect the fact that we want to showcase the whole culture and bring content that just isn't out there in other places. So much content out there online sucks. Pharrell and I have talked a lot about the idea of really selling product through video, which is a concept that has worked so well for home shopping networks. We want to do it in our voice and in a way that is funny and entertaining. So I think we will more directly link selling and content in 2012. But selling product is not the reason we are doing content. It can help sales, but the content itself is an important part of who we are, and we think we can provide it in a way that is exciting and different. I couldn't get up every day if I couldn't do things creatively and start new things. I would be bored, I need to keep moving, and the media game is changing rapidly. It is exciting to be in it and we want to show things from a verge perspective.
Any last words?
Don't do it if you think success comes overnight… always try to have fun… if you can't brush off the haters and the constant setbacks then it ain't for you. But if you have an idea and you are ready to eat through a brick wall to get it done, then go for it and never, ever, ever quit!