Kung Fu Wildstyle: Transcending East and West Through Bruce Lee and Street Culture with Fab 5 Freddy and MC Yan
It is always engaging when two different artists from different cultures join forces for an art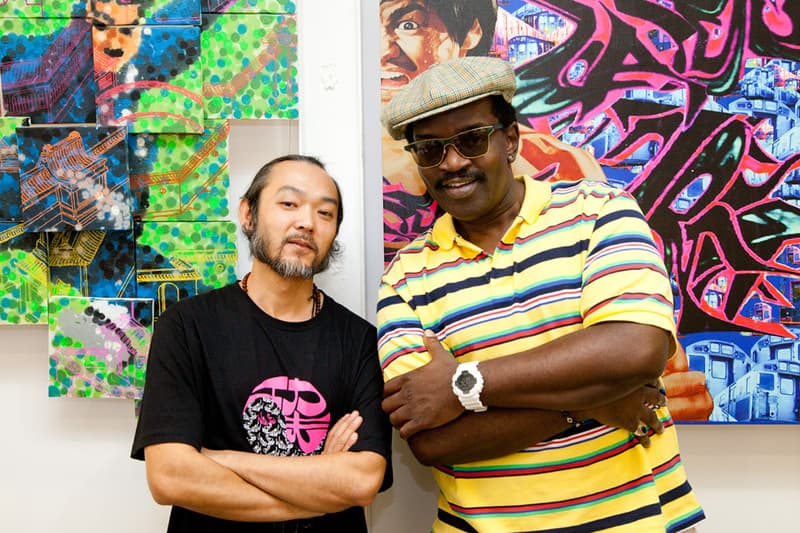 1 of 6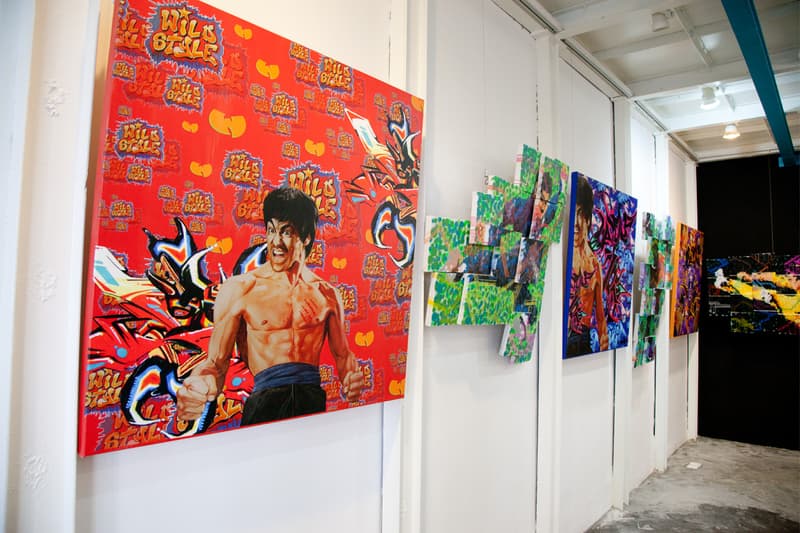 2 of 6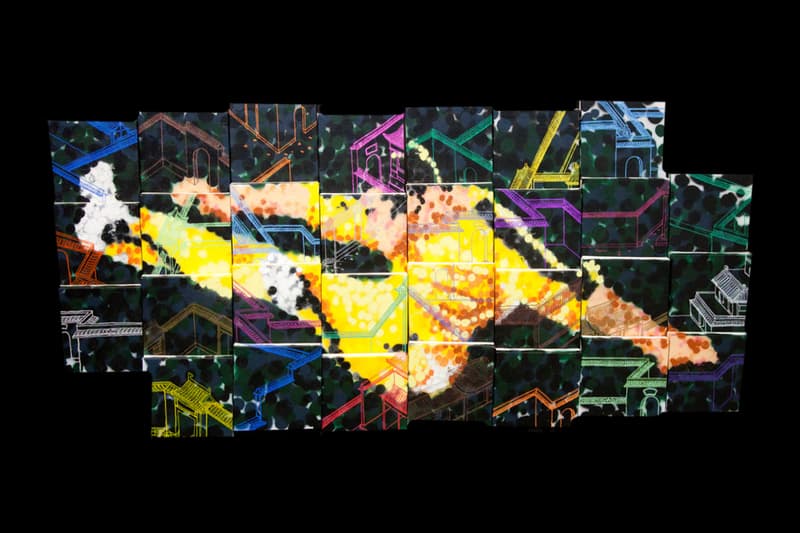 3 of 6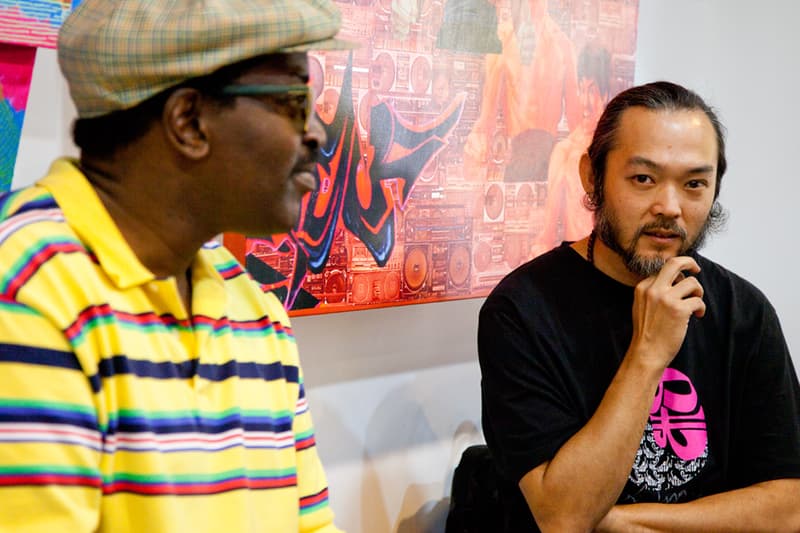 4 of 6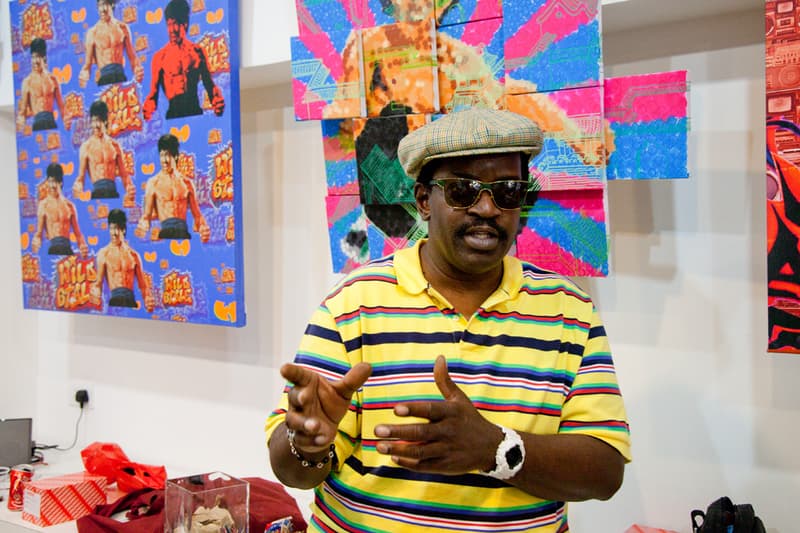 5 of 6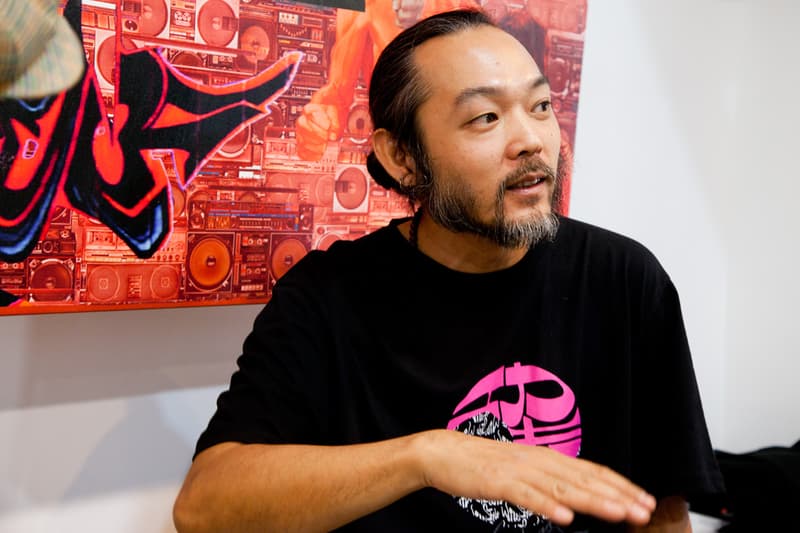 6 of 6
It is always engaging when two different artists from different cultures join forces for an art project. It is even more interesting when such a clash of creative forces happens within the realm of street culture. Case in point, Fred Brathwaite — better known to the world as legendary hip-hop pioneer Fab 5 Freddy — recently linked up with artist and "Godfather of Chinese Hip-Hop" MC Yan for "Kung Fu Wild Style," an art show in Bruce Lee's hometown of Hong Kong. The project consists of 10 graffiti-style recreations of iconic scenes from the actor's films — including Enter the Dragon and Fists of Fury — with five created by Fab 5 Freddy and the other half by MC Yan. We met up with both icons at a pop-up space in the city's Sheung Wan district to talk about the project, as well as their respective artistic hustles in different cultures and systems.
---
How the two met and the similarities between kung fu and hip-hop…
How did you guys first meet and how did the partnership between you start?
Fab 5 Freddy: We connected through the internet a few months ago. We communicated through Skype and had great conversations, sharing our respective histories, thus gathering ideas for the show. I grew up in New York City in the '70s. I used to watch a lot of kung fu movies and realized what Bruce Lee really meant and what influence he had on the American urban culture. You could detect his influence in movies and music. Just take James Brown's lyrics in "The Payback": "I don't know karate, but I know ka-razy" or "Kung Fu Fighting." Kung fu's influence went all the way up to the hip-hop culture. Fu-Schnickens and Wu-Tang Clan had a kung fu vibe early on in their careers.
On the other hand, Yan talked about his experiences growing up here in Hong Kong and we found a lot of similarities. One thing I found about about my conversations with Yan is the fact that Bruce Lee is not fully embraced by the government.
MC Yan: They are still fighting over having a Bruce Lee museum in Hong Kong. The government has not really been supportive because of the rumors regarding his private life and death.
Fab 5 Freddy: Possibly because he was born in America and had an American wife. This made me think more and more about the influence he had on our culture. He was the Michael Jackson of the whole kung fu phenomenon, a big, big star that still has a massive global following. If you go to places around the world you will always encounter certain icons like Bob Marley, 2Pac, Marilyn Monroe and you see Bruce Lee, even 40 years after his death. The image is always there.
Where do you see the similarities between kung fu and hip-hop?
Fab 5 Freddy: It is the attitude. If you think of the early development of the American pop culture, especially movies, then you have the idea of the Western as a genre with the good guy/bad guy theme, with the Native Americans being unfairly labeled as the bad ones. After the Western, the gangster movie genre arrived, which was highly popular in America as well. Then, all of a sudden, you have this brand new thing carrying the same the good guy/bad guy gene but put in a completely new world featuring these Chinese guys with the cool kung fu gear and these great fighting skills set within this amazing culture. Every kid wanted to emulate every move. It was a phenomenal thing. Its energy made me realize how and why it resonated to our culture. A great example is RZA, who developed the Wu-Tang Clan and just directed this great kung fu movie, The Man with the Iron Fists. The trailer and the soundtrack are amazing. This takes things beyond imagination back when the Wu-Tang Clan started. Just think if someone would have told you that the RZA would do an official kung fu flick back then. It's incredible and also funny. Back in the early '90s, when the Wu was the Wu, Brett Rattner, a major Hollywood director and a friend of ours, directed the clip for their single "Triumph" and used all these special effect with kung fu elements, and RZA is keeping this legacy alive.
---
About the paintings and the exhibition…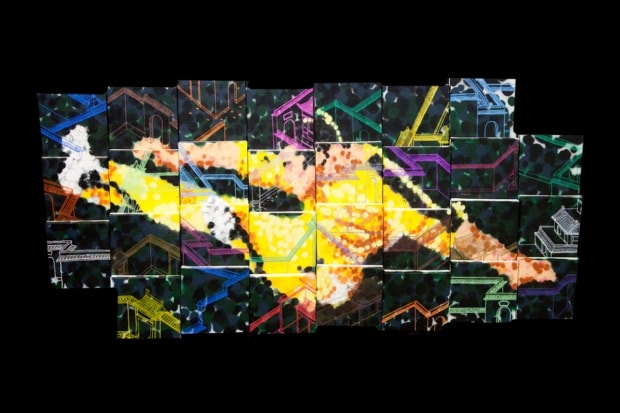 What sparked the idea of 'Kung Fu Wildstyle?'
Fab 5 Freddy: My friend Sean — who has been living in Asia for the past 10 years — and I have been constantly exchanging ideas on how to touch the Asian market. I visited Shanghai three years ago to see this culture opening up and willing to learn from other cultures, including hip-hop. So I thought it would be great to try and come together, show people what I've been doing. By the time Sean moved to Hong Kong, I was taking painting really seriously again since this is basically my foundation, and we started to talk about doing an art exhibition here. He connected with Yan and other people that were interested in bringing this together.
What artistic approach did you take to create these paintings?
MC Yan: We took our inspiration from Bruce Lee movie posters and photographs and started to play around with ideas for the paintings.
Fab 5 Freddy: My style on working on canvas now is very similar to the way hip-hop music has been created, using digital technology. I look at it a lot like sampling, remixing, reshaping images of Bruce Lee, printing on canvas, working on the canvas. People that make hip-hop music employ a similar style. Sometimes the idea of art comes together really quickly but there's a lot of thought in the process of creation.
MC Yan: I really enjoyed working on this project. I had to merge the graffiti state of mind with the Chinese way of painting. I requested canvases that have already been worked on so I could paint on the surface and do a graffiti on a Chinese-style wall. For each canvas there is one construct. I took references from Chinese printing constructions. I tried to play with the height and size of buildings and project them to this other dimension. It is my impression of Hong Kong. There are too many buildings in this city and it's very packed.
Fab 5 Freddy: This is definitely a good description of my work style as well. Give me a painting, so I can restructure and remix the painting in order to conceptualize the ideas of my work. Some of the elemental graffiti works are randomly sampled, dismembered, reconstructed compositions, much like producers employ a James Brown drum-pattern or a Miles Davis horn and combine them to create a hip-hop beat. That's what I visually conceptualize about when I'm constructing these works.
You have also created a T-shirt to honor this exhibition. Can you tell us a little bit about that?
Fab 5 Freddy: It was an idea to come up with a logo and brand to show what this show is about. After sending files and concepts back and forth, we came up with the idea of the yin-yang symbol. It merges the kung fu symbol in Chinese characters with my Wildstyle-tag and we made it fit together.
---
About Hong Kong and hip-hop culture…
Hong Kong is a finance-driven place. How do you see a project like 'Kung Fu Wildstyle' fitting in such an environment?
MC Yan: That's right. In Hong Kong, you need to sell. It is difficult to show and demonstrate the underground culture in an authentic way to the people. I am really happy that I am able to show the people how this hip-hop culture started and how it used to be. With 'Kung Fu Wildstyle,' we are able to show the kids how the street culture has developed step by step. We are lucky to do this in an independent way, going back to the basics, underground style so to speak. Be inspired from ground zero.
Would you agree that the state of the creative scene in Hong Kong is reminiscent of the state of the hip-hop culture in New York City the '70s and early '80s, where artists like yourself had to make noise in order make people aware of your movement?
"We looked at ourselves like generals, plotting out an attack on the global pop culture. How do we get in there? Our work is just as dope as everyone else's and figuring out ways on how to make this really happen."
Fab 5 Freddy: While most people connect me with the movie and television aspect of the culture, making paintings was my first foundation. Coming from this graffiti background, I had to figure out how I could execute, how I could make this happen without getting busted. How I could achieve these things by navigating around the background coming through the roof of this system of the artwork. So in the '80s, myself, Jean-Michel Basquiat and Futura 2000, we were extremely close. We looked at ourselves like generals, plotting out an attack on the global pop culture. How do we get in there? Our work is just as dope as everyone else's. So we had to figure out ways on how to make this really happen. This led to dabbling in different means of expression like film, music, TV, etc. This is my foundation and I saw the same things happening with Yan. He has made it clear that for the people that try to express themselves faced the same type of struggle. In addition, people here don't have the same level of access to information as people in America do. But if you are curious, you will find a way. Yan is a great example of somebody who was curious and who found his way to move around and get his message around. It is so similar to what it was for us in that regard to Hong Kong is now becoming the capital of the Asian art world. People start to understand. That's why I am happy to be a part of this.
---
Favorite Bruce Lee movie…
Final question. What is your favorite Bruce Lee movie?
Fab 5 Freddy: I have to say Enter the Dragon. But as an American I remember Bruce Lee before he was a kung fu star as Kato, the sidekick of The Green Hornet. It was the first that we saw kung fu, so I have a strong connection remembering him as Kato.
MC Yan: Game of Death. Every video action game was inspired by this movie. You have to fight level to level to eventually face the big boss.
For all inquiries regarding the works please contact: sean.dinsmore@kungfuwildstyle.com