Bodega for Converse First String Pro Leather
One of the most iconic footwear silhouettes of all time, Converse's Pro Leather has seen a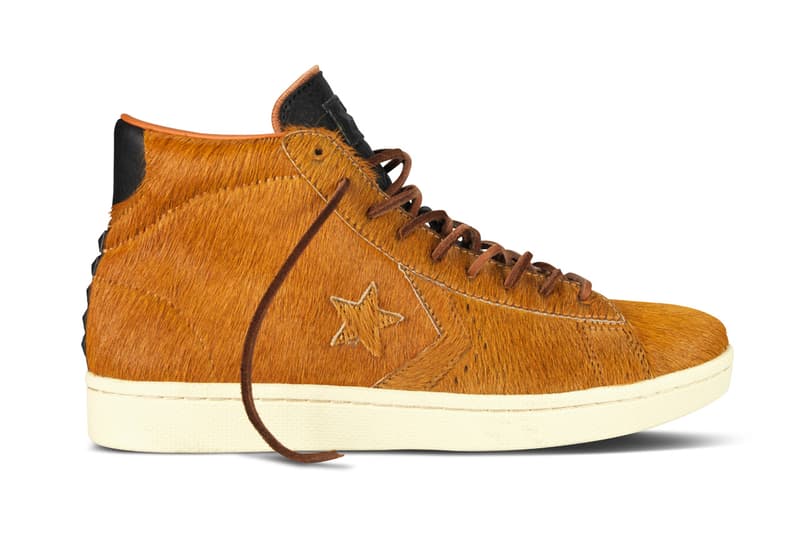 1 of 2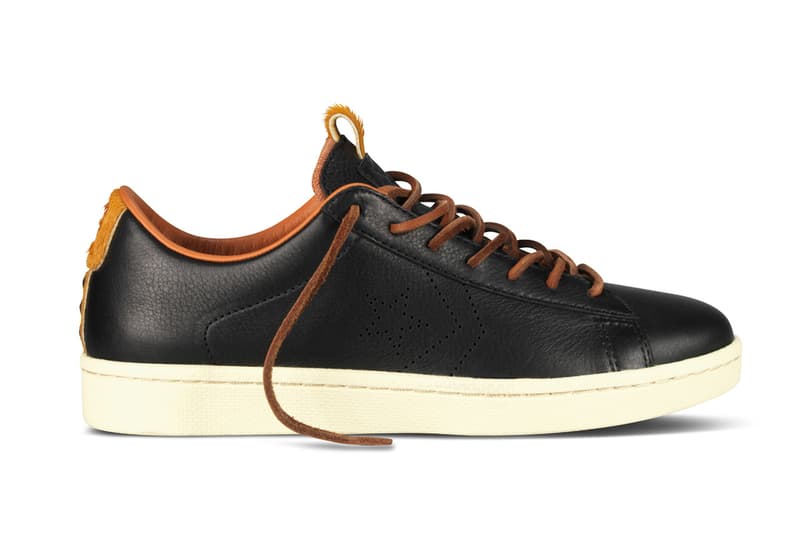 2 of 2
One of the most iconic footwear silhouettes of all time, Converse's Pro Leather has seen a resurgency this year with collaborative releases from Footpatrol, Stussy, Patta and CLOT as each has provided its own unique take on the classic. Now, Converse and its First String line have tapped Boston's Bodega for an interpretation of both high- and low-top Pro Leather silhouettes in celebration of Converse's Massachusetts roots. Pairing camel-colored faux pony hair with luxurious black leather, both pairs offer off-white rubber soles, premium leather lining, rawhide laces and understated branding. Retailing for $100 USD and $110 USD respectively, both the high- and low-top designs are set to be available from Bodega beginning Friday, November 23.
As the Boston storefront prepares for its special Black Friday release, Bodega Project Manager/Co-Designer Marvin Bynoe shed some light on the pieces and the inspiration for the project.
Can you introduce yourself and role and title at Bodega?
I'm Marvin Bynoe, a Boston native, born and raised in Dorchester. I went to the Massachusetts College of Art and received my bachelor's in illustration. I am the Project Manager/Co-Designer for Bodega. My role is to head all collaborative projects and manage Bodega's in-house line.
What is it about the Pro Leather that you respect?
I respect that the Pro Leather has such a cool and simple silhouette. Dr. J was the ambassador of cool and he made it easy to be just that, on and off the court, by rocking Pro Leathers.
How does this differ from previous footwear projects you've done?
This project differs from others because we wanted to push ourselves and work with unexpected fabrics and different appliques. We were given a lot of freedom in terms of design so we wanted to honor that by doing something that was different from our previous projects.
What was your theme for the design?
When we first got news of the project I sat down with Randy Price, my co-designer at Bodega, and we began to brainstorm some ideas. We decided that we wanted to tell a material story, using unconventional fabrics that are usually seen in high fashion and make them more casual and wearable.
Would you say the pony-haired High is much different from the usual design language of Bodega?
I believe the pony-haired High is different than some of our previous designs because we wanted to use a more subtle colorway so that the material could shine without being over the top. However, it is similar in that we always want to push boundaries and look outside of what's expected from us – that's where the pony hair came in.