Vane 07/08 Pre-Spring Collection
In a wealth of New York city brand emerges one brand by the name of Vane. Behind the work of Ravi Thanawala, Eric poon and Atif Ateeq; They have set forth a goal of creating new and interesting silhouettes which undoubtedly provide a sense of inspiration and creativity which go hand in hand with their 100% New York produced garments. Every aspect of their work is done in New York, from the fabric and trim sourcing, to the care labels and hangtags. Despite a more unorthodox approach to some of their designs, each was conceptualized with a certain goal in mind. The 07/08 Pre-Spring Collection is highlighted by a range of tops and button-up hoodies. These include the Risky Business Button Down Hoodie, the Manolito Pullover and UndiVided Hoodie. As touched upon previously, each piece had a certain goal to achieve. The Risky Business was created to blur the lines of a casual garment and that of a more sophisticated and higher-end jacket. The Manolito turned the old-fashioned crew-neck into a more fashion forward pullover and the UndiVided was meant as a reinspiration on the hoody which yielded a better fit regardless of the situation. Other pieces include the Prophecy T-shirt which utilizes reflective 3M prints. The whole Vane aesthetic is based around seamless transition, from the easy going atmosphere of a coffee shop to the bright lights and sounds of a night out, Vane has created a garment suitable for all occasions. Some pieces are currently available in Vane's online shop while a further release will be available some the following New York City locations, Brooklyn Circus, Caravan, Reed Space, and Union. Image: HYPEBEAST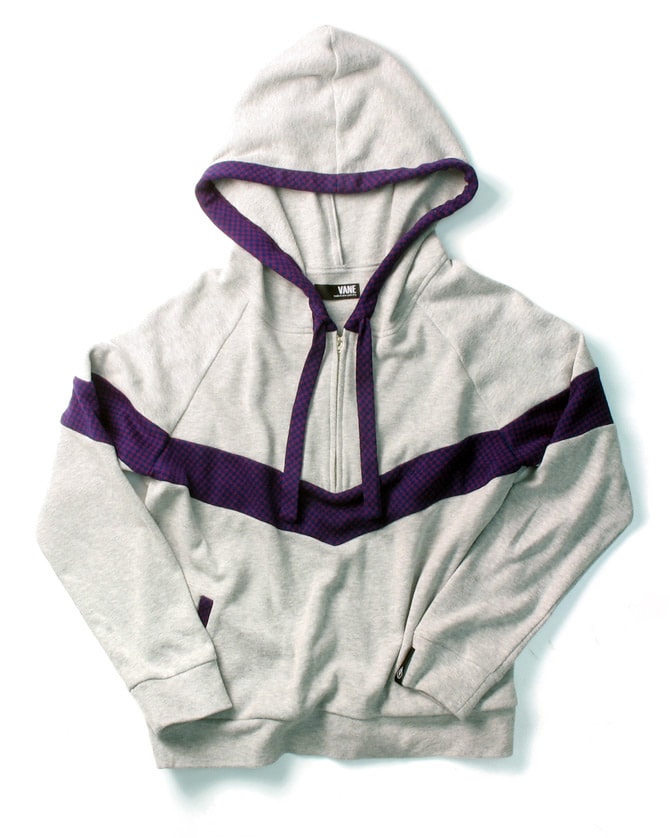 In a wealth of New York city brand emerges one brand by the name of Vane. Behind the work of Ravi Thanawala, Eric poon and Atif Ateeq; They have set forth a goal of creating new and interesting silhouettes which undoubtedly provide a sense of inspiration and creativity which go hand in hand with their 100% New York produced garments. Every aspect of their work is done in New York, from the fabric and trim sourcing, to the care labels and hangtags. Despite a more unorthodox approach to some of their designs, each was conceptualized with a certain goal in mind.
The 07/08 Pre-Spring Collection is highlighted by a range of tops and button-up hoodies. These include the Risky Business Button Down Hoodie, the Manolito Pullover and UndiVided Hoodie. As touched upon previously, each piece had a certain goal to achieve. The Risky Business was created to blur the lines of a casual garment and that of a more sophisticated and higher-end jacket. The Manolito turned the old-fashioned crew-neck into a more fashion forward pullover and the UndiVided was meant as a reinspiration on the hoody which yielded a better fit regardless of the situation. Other pieces include the Prophecy T-shirt which utilizes reflective 3M prints. The whole Vane aesthetic is based around seamless transition, from the easy going atmosphere of a coffee shop to the bright lights and sounds of a night out, Vane has created a garment suitable for all occasions.
Some pieces are currently available in Vane's online shop while a further release will be available some the following New York City locations, Brooklyn Circus, Caravan, Reed Space, and Union.
Image: HYPEBEAST