Strikeforce Event
sometimes in August which already included the participation of Gina Carano vs Cyborg for Women's belt.
New fight was announced today...
Fabricio Werdum vs Alistar Overeem
for heavyweight title fight. It'll 2nd time they'll gut it out. It'll be very interesting to see fresher, better, stronger version of Alistar fight against Abu Dhaubi champ.
On side note, Brett Roger's manager is callin Alistar out,
"He's had two opportunities to fight Brett but he hasn't taken either of [them]. … if I was Overeem, I would avoid Brett too. It's a horrible f***ing fight for Overeem."
Future dream match for sure!
------------------------------------------------------------------------------------------------------------------------------------------------------------
Title Quest Volume 3: Georges St. Pierre vs Thiago Alves (By Genghis Con)
www.youtube.com/watch?v=_uSKYfpv0u0&eurl=http%3A%2F%2F
*Alves have great Takedown defense as we saw him against Josh Koshcheck & Matt Hughes, but we're talking about GSP who is one of the top 3 wrestlers in MMA right now. Also Jon Fitch has submitted Thiago by Ref stoppage... but that was a long time ago. Currently he's riding 7 consecutive wins
Thiago Alves vs Jon Fitch (Pretty entertaining bout)
www.dailymotion.com/video/x7pnpg_jon-fitch-x-thiago-alves_sport
------------------------------------------------------------------------------------------------------------------------------------------------------------
Fabricio Werdum Vs. Alistair Overeem in Pride FC
www.dailymotion.com/video/x6zzn4_fabricio-werdum-vs-alistair-overeem_sport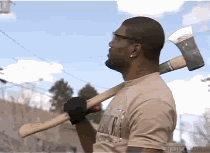 HAHAH idk why but this gif makes me laugh lol