Okay, since I have no summer job because of college classes, I need a find way to get cash, so I'm selling shoes I don't wear often or don't fit me well. All these shoes are in great condition, I take care of my things and everything that the shoe initially came with (laces, lacelocks) will come with the shoe. Because I need to pay for things, I will not be accepting trades. I'm willing to work with pricing if the person is buying multiple items, but please be respectful and send serious offers. If you need me to take any other pictures just let me know, I don't mind at all.
I'll take purchases through Paypal, with the email [email]edwardcortez@csupomona.edu[/email]. I have sold on here in the past, and will ship ASAP with tracking info.
Ice Cream: Boutique, Size 10.5 (9/10)
Asking Price: $150 OBO + shipping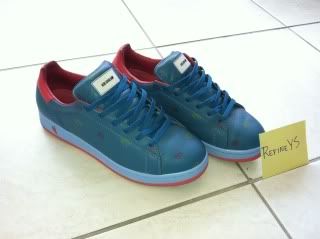 Got the original box, red laces.
Since I don't know how much they originally go for, I'll hold them for a couple of days and see whomever has the highest offer.
Billionaire Boys Club: Red Deck Chukka (10.5) (9.5/10)
Asking Price: $85 OBO + shipping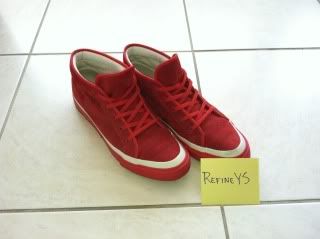 Got the original box. The shoes are listed size 10, but with BBC they usually make the shoes half a size bigger and tell the customers to size down.
Android Homme: Moto Black 11 (9.5/10)
Asking Price: $90 OBO + shipping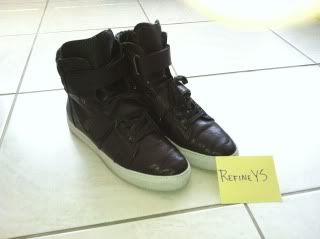 Wore couple of times lightly. Have the original box in addition to white laces.
Creative Recreation: Black/Patent, Size 11 (8.5/10)
Asking price: $45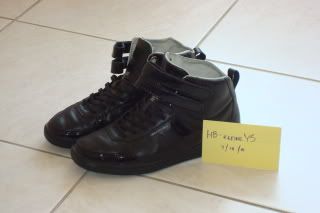 Good condition, it's just the toebox that shoes any signs of wear, but that would happen anyway. Since they're all black, it's hardly noticeable. There are also denim marks on the top white part, but your jeans will cover them anyway. No signs of heel drag, but it wouldn't matter anyway since the shoe is all black.
Creative Recreation: Black, Teal, Lavender, Size 11 (9.5/10)
Asking price: $55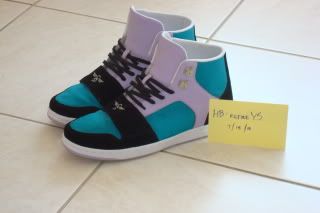 The only signs of wear are seen on the toebox, but due to the materials used, these will age great since it's not going to crease the way leather does. Only worn a few times, and there are no signs of heel drag.
Nike ID: White/Grey/Pink, Size 11
Asking price: $45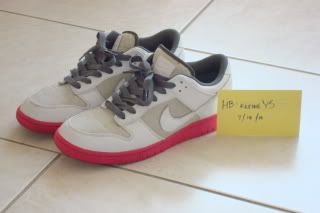 For the record, I made these before news of the Jaspers even came out.. haha. These are in great condition, no heel drag, and it unfortunately came with the light creases you see, but when worn they hardly show it. The toebox and some other parts are made with jacquard fabric, which look really good in the reflected light.
Air Jordan Fusion VIII: Size 11 (9/10)
Asking price: $65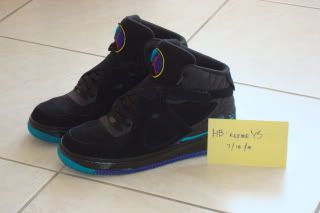 These came out recently, and are mad comfortable. Very slight heel drag, and minimal creasing, which is only visible at very close range. Otherwise the shoes are in great condition.
Undefeated x Puma 24k Mid: Black, Size 11 (10/10) NEW!!
Asking price: $100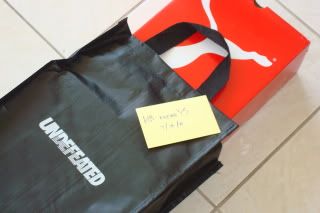 These shoes are brand new, and even come with the Undefeated bag, as shown in the second picture. They also come with gold and white laces, just in case they weren't clear in the picture. I don't see many of these around anymore, so these will probably be your last chance to get your pair.
Ice Cream Board Flip 2 Set: Blue/Pink (9/10), Black/Lime(9/10), Black/Blue/Pink/Yellow (9/10)
Asking price: $60 + $10 shipping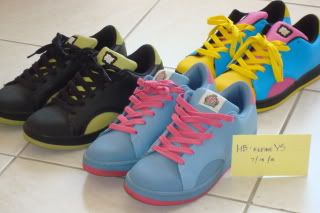 Yes, I'm selling them as a set, so each of them are $20 individually. Only the Blue/Pink/Yellows show any signs of heel drag, and they are the only ones that don't come with a box, but one will be provided. It really doesn't get any cheaper than that. I'm only charging for shipping because of sending three boxes will rack up a ton of money, so I'm just asking for a little help on that.
Eric Elms x Vans: Burgundy Red, Size 11 (9.5/10)
Asking price: $65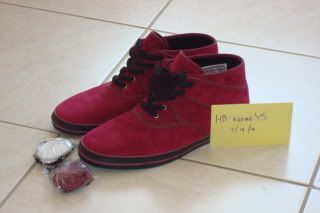 I bought them at Bows&Arrows when they first dropped, but in Vans I'm a 10.5, so I would just rather get them to someone that they fit better. Worn lightly once, so there aren't really any signs of wear on them. One of the things that always bothered me about Vans is their white soles always got dirty really easily. With these black soles, they always keep a clean appearance.