So I was up late last night, and I came across this TV advertisement. It was one of the things where I was like "Damn, this looks like it's gonna be stupid". By the end of the commercial I was loling at the idea. The product is called the
Snuggie
. Personally I think it's ridiculous, you guys decide, not exactly sure how old this is either. Regardless, Discuss....
"A blanket with sleeves, my life is changed forever!!!"
www.youtube.com/watch?v=2xZp-GLMMJ0
So apparently the current trend is to resemble something like...
Friars anyone? cute huh...ehhh
orrr......
Stonecutters from the Simpsons...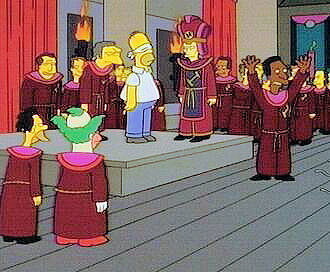 YouTubers have caught on...speaking of cults:
www.youtube.com/watch?v=y4OxmXpKCcI
...and they've even added
cool
music...now I defs want to buy one!
www.youtube.com/watch?v=ndCQlz3172U
So, to all of you who bought this blanket with sleeves, should you slap yourself for looking ridiculous, or laugh at US for not buying one. maybe I'll get one for granny. Lol, she'll look like a fuckn Wizard...cheers