**Sorry this looks messed up. IE is not working properly! I will make duplicate posts on my blog once I get a proper page set-up 
http://streetkitten.tumblr.com/
***
1. If you haven't noticed by my name I am chick. Please
don't ask me questions in relation to male apparel beyond the basics of sewing
and pattern drafting. I will probably not know the answer.
2. I do not know everything about apparel production. I have
only made a few garments from school or for my b/f.
3. I will update this section with pictures, links, tutorials
either from my own work space or online.
4. please share what you've found or from your own
experiences with a seamstress, pattern drafter, etc.   
Let's get started: What is cut & sewn apparel?
Clothing that is made from scratch using a wide array of
material, tools and products:
Tools: sewing machine, serger, screen printer, dress form, iron,
rulers, pattern paper, mannequin Supplies: fabric, notions (zipper, buttons,
thread, scissors, etc), interfacing, piping, etc
TOOLS IN MY CLOSET- dressform, sewing machine, fabrics, pattern drafting tools
How do you make the clothes? There are 2 ways to make clothes:
1. Draping- using a dress form and fabric (usually in raw form
like muslin-100% cotton) is placed onto the dress from into the desired design
of the apparel. Markings are made on the fabric while on the dress form. This
method is best used for very detailed, custom apparel like a dress, skirt,
coat, blouse or even jeans.
DRESS FORM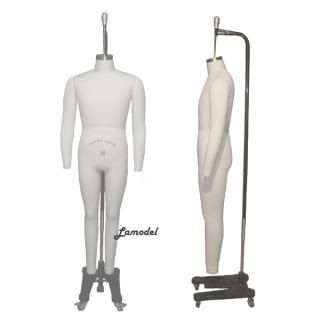 EXAMPLES OF DRAPING W/MUSLIN
2. Pattern drafting- drawing shapes onto paper using precise
measurements that reflects the desired garment. A variety of pattern drafting
tools are required such as awl, hip ruler, L-shaped ruler, notch maker, etc.
These pieces are then cut out and placed onto fabric. Once placed on the
fabric, fabric is cut around the patterns. Once cut out, all fabric pieces are
put together and sewn.
PATTERN DRAFTING TOOLS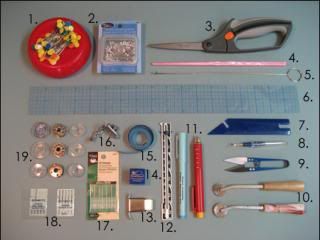 MORE INFO HERE:
http://www.isntthatsew.com/2013/09/pattern-drafting-basics.html
AN EXAMPLE OF HOW A FEW TOOLS ARE USED TO MAKE A PATTERN
PATTERN OF MENS COAT: FRONT AND BACK
EXAMPLE OF PATTERNS PLACED ON FABRIC EFORE BEING CUT OUT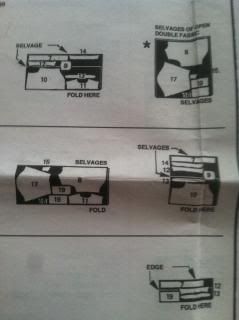 There is a cheat method of making apparel patterns- knock-offs.
Knocking-off a product is when you trace the outline of the product. This is
where counterfeiters get their products. If you are new to sewing and want to
try at home methods, do this first with your best fitting clothes to get a
rough idea of what patterns look like. For most clothes you do not need to take
them apart to get the pattern.
KNOCKING OFF A JACKET
STORE BOUGHT APPAREL PATTERNS
If you are learning on your own buy an apparel pattern from a sewing store and
start there. It comes with directions on how to sew the clothes BUT you need to
learn basic words. Sometimes the directions can be confusing. I suggest finding
sewing blogs on the subject. Look for clothing that only has about 4-5 pieces to sew together- sweaters, t-shirts, basic shorts, tank top.
WHAT THEY LOOK LIKE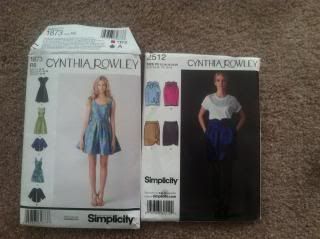 DIRECTIONS AND MEASUREMENTS ON BACK  
WHAT'S INSIDE??
INSTRUCTIONS AND PATTERN PIECES
DIRECTIONS ON SEWING ACTUAL PATTERN PIECES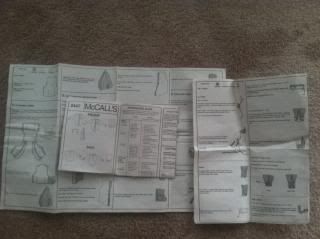 HERE IS A SLEEVE PATTERN PIECE FROM A SHIRT I MADE FOR MY B/F
If there is a sewing class at your community college, high
school or someone is advertising classes online I strongly suggest you attend
one and get the basics taught to you by a professional. The more you know about sewing and patterns, the better to avoid problems with the manufacture. Also, if there is no sewing store in your area you can print patterns online, but I do not suggest that for beginners, just buy the pattern online.
I will add more indepth information about patterns and sewing on my blog. If I get enough requests for help I'll consider doing tutorials via youtube. http://www.tumblr.com/blog/streetkitten
****UPDATE 11/23/2013****
WHY IS IT SO EXPENSIVE TO MAKE IT?
Cut & sew apparel are made individually by hand using a combination of people and machines.
1. People have to be paid, supplies need to be ordered for machines as well as be maintenance. Sweat shops are/were popular because a brand could spend lets say $3 to make a sweater instead of $7 at a certiifed, safe and fare manufacture.
2. Supplies- wholesale items come with everything you need- pockets, buttons, draw string, zippers, etc. Look at your jeans and see how much stuff is used to make them. Here's a quick list- denim fabric, 1 button, 1 zipper, 8 grommets, thread, pocket lining and sometimes interfacing. Standard denim jeans comes with those items. The nicer the quality of each item the more money you spend to get quality.
3. Fabric: Expenses on fabric depends on how many pieces your going to produce. For smaller business that want to produce 100 hoodies instead of 600 they will be charged more for fabric because they are buying less of it (just like buying tee's wholesale). If you are having custom fabric made it can be much more expensive to produce a collection. Perfect example, this hoody MSRP is $110 b/c the estimated cost to produce just 1 is $24-30/per piece. 
http://houseofblanks.com/index.php?route=product/product&path=59&product_id=52&option=0
  Had they used standerd sweater knit and bought the fabric by the bolt the MSRP could have only been $50-80. Obviously this company prefers to be different and produce a nicer hoody. Also, fabric by the bolt can consist of 20-150+ yards. Depends on your needs. The more you get, the less you spend per piece.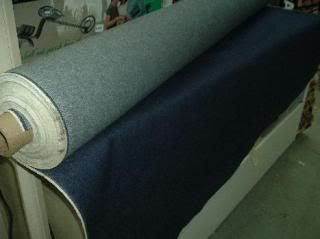 4. Labels and tags- Some manufactures offer this service in house. If you are working with a smaller company you will have to go elsewhere to get these. I don't know the estimated cost.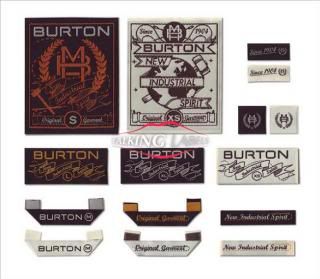 5. Shipping and supplies- A lot of new companies forget to add this into their budget. When you find out how much it costs to ship your collection and any item related to it you may have to pull a loan for another $800-1000 and hope your sales go as planned. Also, shipping from outside the country there are shipping laws and fees you have to abide by. It varies per country so be sure to research that and ask the manufacture.