Location: Toronto, Canada
Payments: Paypal (+fees or gift), Postal Money Order (Shipped w/ tracking), Concealed cash (at buyers risk) or Local meet up.
Best way to contact is via PM, since I will receive an e-mail notification.
CLOT Alienegra Egra T-Shirt - Size Medium (Runs small so fits like SMedium)
Condition: Worn a couple times. But too snug, which is why I should sell it.
Comes with: zip bag.
Pretty limited, long gone and probably sold out instantly when it dropped years ago.
Measurements:
Pit to pit 20.5inches
shoulder seem to end of sleeve 8inches
sleeve opening 6.5inches
center of back (straight down) 27 inches
waist 21 inches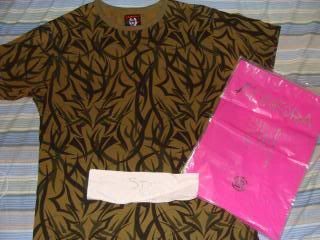 img.photobucket.com/albums/v642/stanley_guy/CLOT/DSC02382.jpg
img.photobucket.com/albums/v642/stanley_guy/CLOT/DSC02385.jpg
img.photobucket.com/albums/v642/stanley_guy/CLOT/DSC02386.jpg
img.photobucket.com/albums/v642/stanley_guy/CLOT/DSC02387.jpg
img.photobucket.com/albums/v642/stanley_guy/CLOT/DSC02388.jpg
Price:
150obo