Brand new, never worn.
Although there is some sort of small, faint scuff on the upper left sleeve.
$120 (OBO) shipped. Paypal preferred.
Did the best I could with pictures. If you'd like more or have any other questions, feel free.
DESCRIPTION + SIZE CHART
+330 denier Hypertex nylon with waterproof, breathable liner membrane
+Longsleeved poly-fleece liner removes to double as a stand-alone jacket
+CE Approved armor in shoulders and elbows
+Foam back pad
+Boda bladder pocket and grommet
+Front chest pockets conceal the Cargo Storage System, which has multiple compartments for all your essentials and an elastic key lanyard
+Torso Vent System (TVS) allows you to unzip the 2 front ports, revealing perforated material for breathability
+TVS has two-way zippers for complete rear-venting airflow control
+Additional arm vents move hot air from sleeves to TVS exit port at back of jacket
+Heavy-duty, abrasion-resistant poly patches
+Double-stitched seams for increased durability
+Easy-grip pulltabs allow gloved hands to get into pockets
+Soft microfiber-lined collar
+Adjustable collar, cuffs, and side waistbelts
+No-scratch rubber-covered buttons
+D-ring for conveniently clipping gloves to jacket
+Reflective trim above rear vent for additional visibility
+SIZING AREA (in) CHEST: 34-36, SLEEVE: 32.5-33, WAIST: 25-30
Flash + No Flash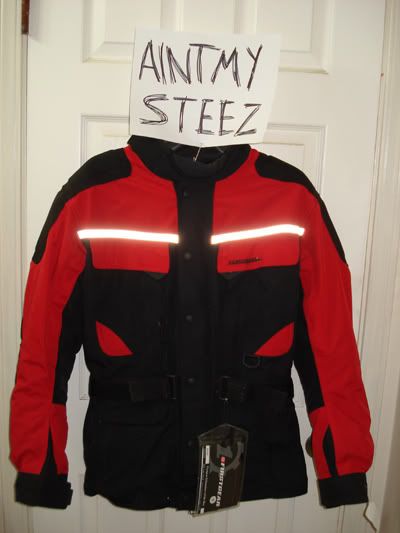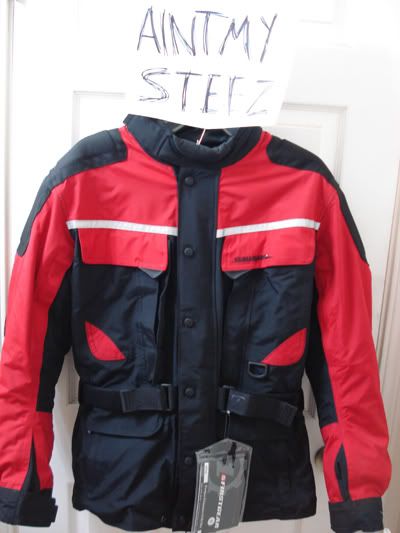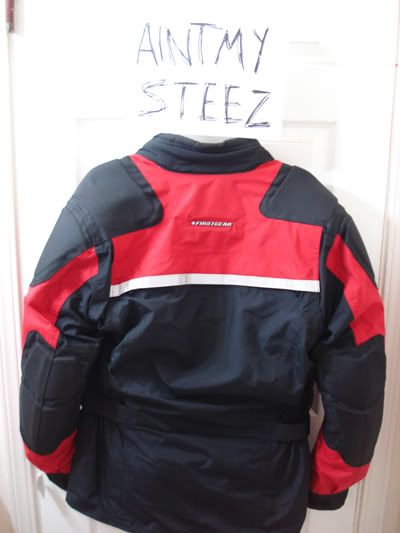 The yellow circle is the scuff area. I couldn't get a more detailed pic with my POS camera.