Paypal only, no 4% bullshit and shipping is included in price (except for intl shipping, please notify me if you're outside of the USA). Won't ship first, and feel free to make an offer on anything. I'm pretty flexible.
TRADES (will add cash):
-Supreme shirts size L
-Infra's size 10 or 10.5
-Supreme old skool's, black 10 or 10.5
-Jordan 4's or 3's, black 10 or 10.5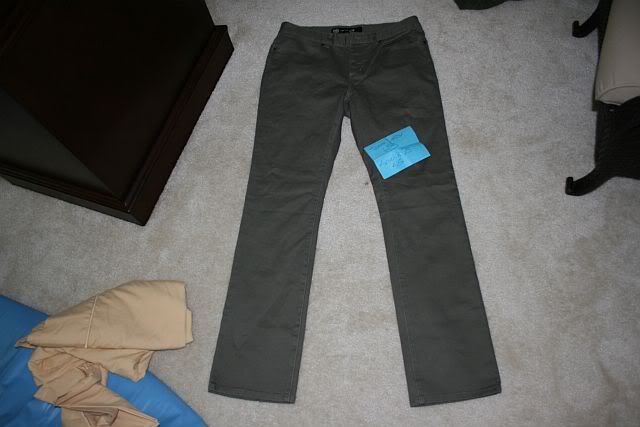 KREW erik ellington chinos. Tagged size 34. These are brand spanken new and have only been tried on once. Never worn because they were too small for me. The waist fit fine, but they were a bit tighter in the thighs than I had hoped. I think I paid around the $60 mark retail, but you can have these for $45 shipped!
The Hundreds snap back 5 panel. Worn 2-3 times tops. $25 shipped.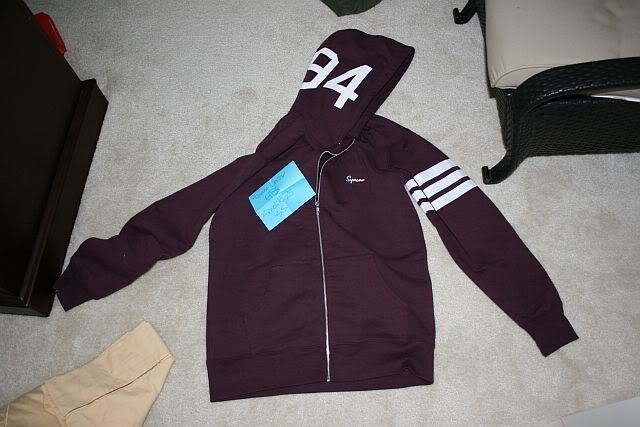 Supreme University zip-up hoody. Size Large, worn 2-3 times, and never in the rain or any weather condition other than slightly cold. Very solid hoody.
BIN: $95 shipped obo
Diamond Eyes Crew
. Size L and brand new in unopened bag.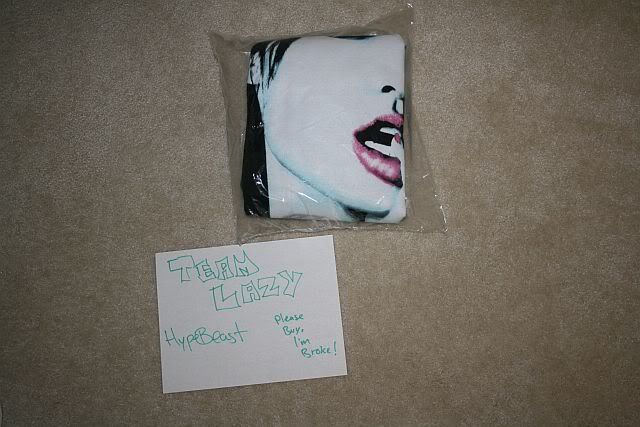 S/O: $75 shipped BIN: $95 shipped
SOLDSOLDSOLDSupreme Box Logos.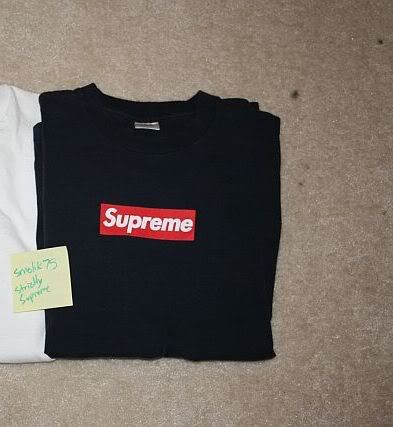 White/Red (from 2003) and Navy/Red are both in great condition. No stretching of the neck or fading or anything at all.
NAVY/RED BOX: H/O $110
soldsoldsold
WHITE/RED BOX: TRADED
THE REST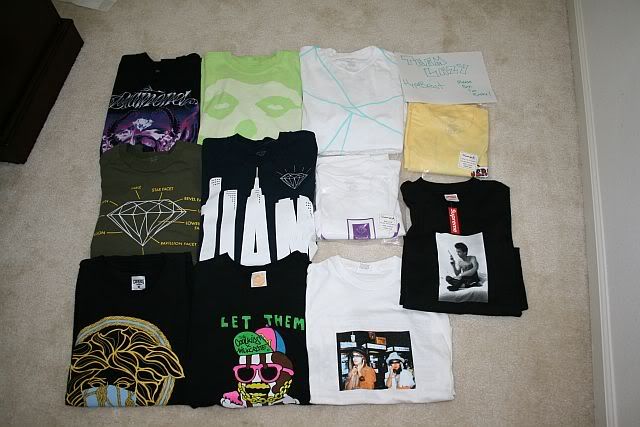 ALL SHIRTS ARE SIZE LARGE
From top left:
Diamond Fire and Ice: worn once, washed once - BIN $28 shipped
Diamond Misfits (fits a bit tighter than a normal large): worn a few times, washed once - BIN $50
Diamond Brilliant(see picture below): worn once, washed once - BIN $18
SOLD
Diamond x Girl skateboards (yellow): DS in original bag - BIN $24
Diamond Math (see picture below): worn a few times, washed a few times - BIN $18
SOLD
Diamond Get your shine on (navy): worn a few times, washed a few times, slight cracking - BIN $15
SOLD
Diamond sk8 life: DS in original bag - BIN $24
SOLD
Supreme Billy Mann: Brand new with tags - TRADED
Crooks and Castles Gorgon tee: worn a few times, washed a few times - BIN $20
SOLD
Milkcrate x Cool Kids: worn once, washed once - SOLDSOLDSOLD
Supreme Buffalo Gals: Brand new without tags (bought from online shop) - TRADED
NOTES FOR DIAMOND BRILLIANT AND MATH SHIRTS:
The shirts themselves are in perfect condition, except for when I washed them once the size print on the inside of the shirt kind of peeled off. I don't know why, because the outside of the shirts look pretty much brand new. I'm not a sleezeball, so I'm showing you what they look like and you can decide for yourself how you feel about them.
Items for sale not listed: I also have a VVVVVVVVNDS Canon Rebel Xti. It's been used less than 5 times, and comes with 2 lens', carrying case, charger, extra battery, cables, the whole 9 yards. PM me if interested, and I'll get pictures for you. I'm only taking offers over $450 for the camera.
Best way to contact me is here via PM or posting in this thread, but my email is smolik75 @ yahoo . com and you can catch me on aim: smolik75
Thanks for looking.